Why Corporate America has grown silent on gun violence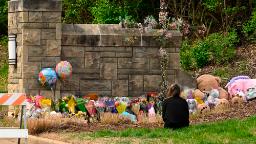 New York
CNN
 — 

America's biggest companies rushed to strengthen their gun safety policies after the mass shooting at a high school in Parkland, Florida, in 2018.
Dick's Sporting Goods stopped selling semi-automatic, assault-style rifles at stores. Citigroup put new restrictions on gun sales by business customers.
A year later, after mass shootings at a Walmart in El Paso, Texas, and a nightclub in Dayton, Ohio, Walmart ended handgun ammunition sales.
But the groundswell of corporate action on guns has ended. In the aftermath of the latest mass shooting at a school in Nashville, most companies declined to speak out. Much of Corporate America has grown silent on guns.
Few major companies have changed their policies related to guns in recent years. Their efforts to curb gun violence have run into fierce pushback from Republican lawmakers that oppose both gun restrictions and corporations taking on social roles.
Gun safety advocates say businesses have a civic responsibility to keep their customers and employees safe from gun violence. Advocates have called on retailers to ban firearms in their stores, invest in communities plagued by gun violence and end political donations to lawmakers with NRA ties. They have also urged banks to stop doing business with gun or ammunition manufacturers.
Some companies, including gun manufacturers, have financial reasons to fight gun restrictions. Other businesses may not believe is their responsibility or role to weigh in on America's gun debate.
And some companies are staying on the sidelines of gun issues for fear of political blowback and antagonizing gun rights supporters.
Guns are "among the hottest hot button issues right now," said Julian Zelizer, a professor of history and public affairs at Princeton University and a CNN political analyst. "In a polarized era, most companies still prefer to avoid these sorts of questions."
Even if executives sympathize with the need for gun control, they don't want to get involved in an issue that could trigger a backlash among some consumers, Zelizer said.
Businesses have been targeted for their gun safety measures. Banks and financial institutions that have sought to reduce ties to the firearms industry have faced pressure from Republican lawmakers.
Texas passed a law in 2021 requiring banks underwriting the state's municipal bond market to certify that they don't and won't turn away firearms clients.
More than 50 House Republicans introduced a bill last year that would "fight back against 'boardroom gun control'" and prevent any businesses that receives federal funding from turning away firearm businesses.
Visa, Mastercard and Discover this month also paused a plan to implement a new merchant category code for the nation's gun retailers after political pressure from Republicans.
The measure was designed help flag potential mass shooters and gun traffickers. But two dozen Republican attorneys general warned the credit card companies that they should not to go ahead with their plans. The Republican officials said that adopting a new sales code for gun stores would harm the constitutional rights of gunowners and potentially violate consumer protection and antitrust laws.
Several state lawmakers also proposed legislation that would prevent the companies from using the new code.
Some businesses and advisers question whether companies should take an active role in gun safety measures.
Paul Argenti, a professor of corporate communication at Dartmouth University's Tuck School of Business, has developed a framework for businesses getting involved in hot button issues. He says businesses should ask: Is the issue tied to their corporate strategy, do they have the potential to make a difference on it, and is there potential backlash to taking a position?
"Companies, unless they are connected, should not be speaking out," he said. "Companies are not social entities."
But Corporate America in recent years has tried to redefine the purpose of a corporation beyond serving shareholders.
In 2019, the Business Roundtable, which represents CEOs and tries to influence policymaking, said that companies should benefit all stakeholders – customers, employees, suppliers, communities and shareholders.
It was a departure from the business theories of Milton Friedman, the Nobel-Prize-winning economist who said society benefits most from companies that grow their profit and serve one master: shareholders.
Under this new philosophy, businesses should take leadership positions in trying to reduce gun violence, said Igor Volksy, the executive director of advocacy group Guns Down America.
"Whether you're a business that works directly with gun manufacturers, sells guns or are a grocery store, gun violence comes to your front door," he said. "As a business, you have a responsibility to keep your customers, employees and communities safe."
He also argued it was in companies' economic interests to play a larger role in reducing gun violence because of the business risks of shootings and the toll of gun violence on communities. More companies like Dave & Buster's, Del Taco, and Walmart have started to warn investors about how gun violence could hurt their financial performance.
"I'm not arguing they need to solve the social issue of gun violence," Volksy said. "I am arguing they have a business incentive to solve for the cost of gun violence."