CFTC case against Binance and CEO Changpeng Zhao calls out one of the worst-kept secrets in crypto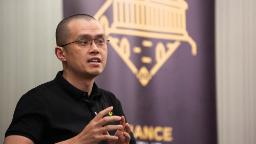 Editor's Note: A version of this story appeared in CNN Business' Nightcap newsletter. To get it in your inbox, sign up for free, here.

New York
CNN
 — 

If you live in America, you're not allowed to trade crypto derivatives. And if you're a big international platform for trading crypto derivatives, you can't let Americans trade those products if you haven't registered with the boring-sounding but not-to-be-trifled-with federal regulator known as the Commodity Futures Trading Commission, or CFTC.
Today, that regulator sued Binance, the world's largest cryptocurrency exchange, for allegedly doing just that. (And if that name sounds familiar, it may because back in November, Binance briefly flirted with bailing out its smaller rival, FTX. Obviously, Binance took one look under the hood at FTX, now at the center of a massive federal fraud investigation, and promptly bailed.)
Here's the deal: The CFTC alleges that Binance and its CEO violated US trading laws by, among other things, secretly coaching "VIP" customers within the United States on how to evade compliance controls.
The commission, which regulates US derivatives trading, said the company and its CEO, Changpeng Zhao, "instructed its employees and customers to circumvent compliance controls in order to maximize corporate profits."
Which, you know, isn't something you want to be caught doing. The CFTC can't bring criminal charges, but it can seek heavy fines and potentially ban Binance from registering in the US in the future.
Binance said the lawsuit was "unexpected and disappointing," adding that it has made "significant investments" in the past two years to ensure that US-based investors are not active on the platform.
As news of the lawsuit broke Monday, Zhao, known as "CZ," tweeted the number 4, pointing to a part of a previous statement: "Ignore FUD, fake news, attacks, etc." (FUD is a commonly used acronym among crypto folks that stands for "fear, uncertainty, doubt.")
Binance has long argued that it isn't subject to US laws because it doesn't have a physical headquarters in America. Or anywhere, really — CZ claims that the company's headquarters are wherever he is at any point in time, "reflecting a deliberate approach to attempt to avoid regulation," according to the CFTC's lawsuit.
The CFTC's lawsuit is certainly not great news for Binance, or for crypto more broadly. But it's not quite the seismic event that was FTX's collapse, or even the Terra/Luna meltdown. (You can read more about those here and here but, tl;dr: Those 2022 events were, to use a technical term, holy-crap-sell-everything-call-your-dad-and-cry moments for crypto investors.)
Prices of bitcoin and ethereum, the two most popular cryptocurrencies, fell more than 3% Monday. Which is to say, it was just another day trading virtual currencies.
Perhaps the most significant part of the lawsuit is the way the CFTC loudly calls out one of the worst-kept secrets in all of crypto: That not only are US customers gaining access to risky offshore crypto derivatives they shouldn't be allowed to access, but it's also pretty darn easy to do so. All anyone needs is a VPN and an iron stomach, because crypto derivatives are leveraged bets on wildly unstable assets. (And like everything in this newsletter, that shouldn't be taken as any kind of advice.)
The likely outcome, said Timothy Cradle, a crypto compliance and regulation expert at Blockchain Intelligence Group, will be that Binance ends up paying "hundreds of millions of dollars" in fines and will be prevented from registering a derivatives exchange in the future. That's "a terminal blow for users of their service located in the US and a significant hit to Binance's revenue" as the suit alleges US users make up 16% of the revenue for Binance's derivatives product.
Monday's news adds yet another layer of regulatory scrutiny on crypto's biggest players. The Internal Revenue Service and Securities and Exchange Commission are also reportedly also investigating Binance, per Bloomberg.
Meanwhile, Coinbase, the largest US-listed crypto exchange, received a so-called Wells notice (typically a precursor to enforcement action) last week from the SEC for possible securities law violations.
And just to pile on: The crypto industry earlier this month lost two of its biggest connections to the mainstream finance world — Silvergate and Signature Bank.
All in all, not a great month for the industry that is perpetually straining credibility even when it's hot. And right now, it is decidedly not.
Enjoying Nightcap? Sign up and you'll get all of this, plus some other funny stuff we liked on the internet, in your inbox every night. (OK, most nights — we believe in a four-day work week around here.)