Wagner chief admits to founding Russian troll farm sanctioned for meddling in US elections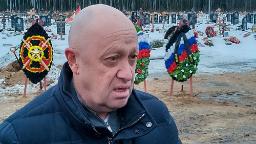 CNN
 — 

Yevgeny Prigozhin, head of the Russian private military company Wagner, admitted on Tuesday to founding the Internet Research Agency, a notorious troll farm that the US government has sanctioned for interfering in American elections.
A Wagner Telegram channel on Tuesday published a statement from Prigozhin, asking him to react to the suggestion that he was the founder of the agency.
"I react with pleasure," Prigozhin said in the statement. "I've never just been the financier of the Internet Research Agency. I invented it, I created it, I managed it for a long time. It was founded to protect the Russian information space from boorish aggressive propaganda of anti-Russian narrative from the West."
The US Treasury Department sanctioned the Internet Research Agency (IRA) in 2018, accusing it of having "created and managed a vast number of fake online personas that posed as legitimate US persons to include grassroots organizations, interest groups, and a state political party on social media."
"Through this activity, the IRA posted thousands of ads that reached millions of people online. The IRA also organized and coordinated political rallies during the run-up to the 2016 election, all while hiding its Russian identity. Further, the IRA unlawfully utilized personally identifiable information from US persons to open financial accounts to help fund IRA operations."
Prigozhin's comments on Tuesday come several months after he admitted to interfering in the US democratic process and pledged to do so again, in what appeared to be the first admission of a high-level meddling campaign from someone close to the Kremlin.
"Gentlemen, we interfered, we interfere and we will interfere," Prigozhin said in November, one day before the US midterm elections. "Carefully, precisely, surgically and in our own way, as we know how. During our pinpoint operations, we will remove both kidneys and the liver at once."
Prigozhin is not a member of the Russian government, but has close ties to the president and has been dubbed "Vladimir Putin's chef" after he began catering events for the Kremlin.
While he once operated mostly in the shadows, his public profile has grown in recent months as his Wagner fighters have become more central to Russia's war operations in eastern Ukraine.