Russian frigate docks in South Africa ahead of joint naval drills with China and Russia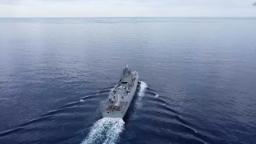 CNN
 — 

Russia's Admiral Gorshkov frigate, armed with Zircon hypersonic missiles has docked in Cape Town, South Africa ahead of joint military drills with South Africa, Russia and China, Cape town's Russian Consulate said on Monday.
"The battleship arrived in the Mother City on its way to Durban where it will take part in joint [South Africa]-[China]-[Russia] naval drills scheduled for February 17-27," the Consulate said on Twitter.
The exercises come as Russia nears the first anniversary of its invasion of Ukraine. It is also an opportunity for Moscow to show it is not isolated on the world stage, despite wide international condemnation of the invasion.
In January, Russian foreign minister Sergei Lavrov and his South African counterpart Naledi Pandor defended the naval drills after they held talks in Pretoria during Lavrov's first visit to South Africa since the invasion of Ukraine.
Earlier this month, Russian state-owned news agency TASS quoted a source close to Russia's defense industry saying the Admiral Gorshkov frigate "will perform a training launch of a Tsirkon (Zircon) hypersonic missile during a joint exercise with South African and Chinese navies."
The joint maritime exercise is expected to include some 350 South African National Defense Force personnel participating alongside their Russian and Chinese counterparts, according to South Africa. An earlier exercise between the three navies took place in 2019.
It's the first time that the drills will include the Admiral Gorshkov frigate carrying Zircon hypersonic missiles, which were first tested in late 2021.
The long-range weapons travel more than five times the speed of sound and are harder to detect and intercept.
The frigate was actively involved in testing the missiles, designed and produced by the Research and Production Association of Machine-Building, part of Russia's Tactical Missiles Corporation, according to Tass.