Vladlen Tatarsky: Who was the outspoken proponent of Ukraine's destruction?


CNN
 — 

Vladlen Tatarsky, who was killed in an explosion at a cafe in St. Petersburg on Sunday, was one of Russia's most outspoken and ultranationalist military bloggers, known for his ardent pro-war commentary and occasional criticism of Moscow's battlefront failures.
Born in the town of Makiivka in Ukraine's Donbas area, Tatarsky joined Russian-backed separatist forces in 2014, according to a profile in state media, before later moving to Moscow.
Following the invasion, returned to the Donbas to rejoin separatist efforts. It was during this time he saw his influence grow, amassing more than 500,000 subscribers to his Telegram channel.
His hardline views in support of the war were unremittingly hostile towards Ukraine, and made little distinction between civilian and military targets. At one point, he wrote: "At least a little distracted from constantly thinking how can we quickly kill all the enemies."
He made perhaps his most infamous remark last September from inside the Kremlin, as the illegal annexation of four Ukrainian regions was sealed.
"I congratulate everyone, everyone who waited till this moment. We will defeat everyone, we will kill everyone, we will rob everyone we need. Everything will be as we like," he said.
Tatarsky's real name was Maxim Fomin, but he borrowed his alias from the protagonist of the novel "Generation 'P," by Russian author Victor Pelevin.
The character is a failed poet who becomes an ad writer. The novel is set in the early years of Boris Yeltsin's time as Russian leader and is meant to be a criticism on the corruption and consumerism of the era.
Tatarsky died Sunday at age 40 when a blast tore through the cafe where he was appearing as a guest of a pro-war group. Authorities say they are treating the attack as suspected murder.
If confirmed Tatarsky was the target, it would mark the second such attack inside of Russia, following the car bomb that killed Darya Dugina, the daughter of influential ultra-nationalist philosopher Alexander Dugin in August 2022.
Alexander Dugin is credited with being the architect, or "spiritual guide," to Russia's invasion of Ukraine. Dugina and Tatarsky moved in the same circles, and they had been photographed multiple times together.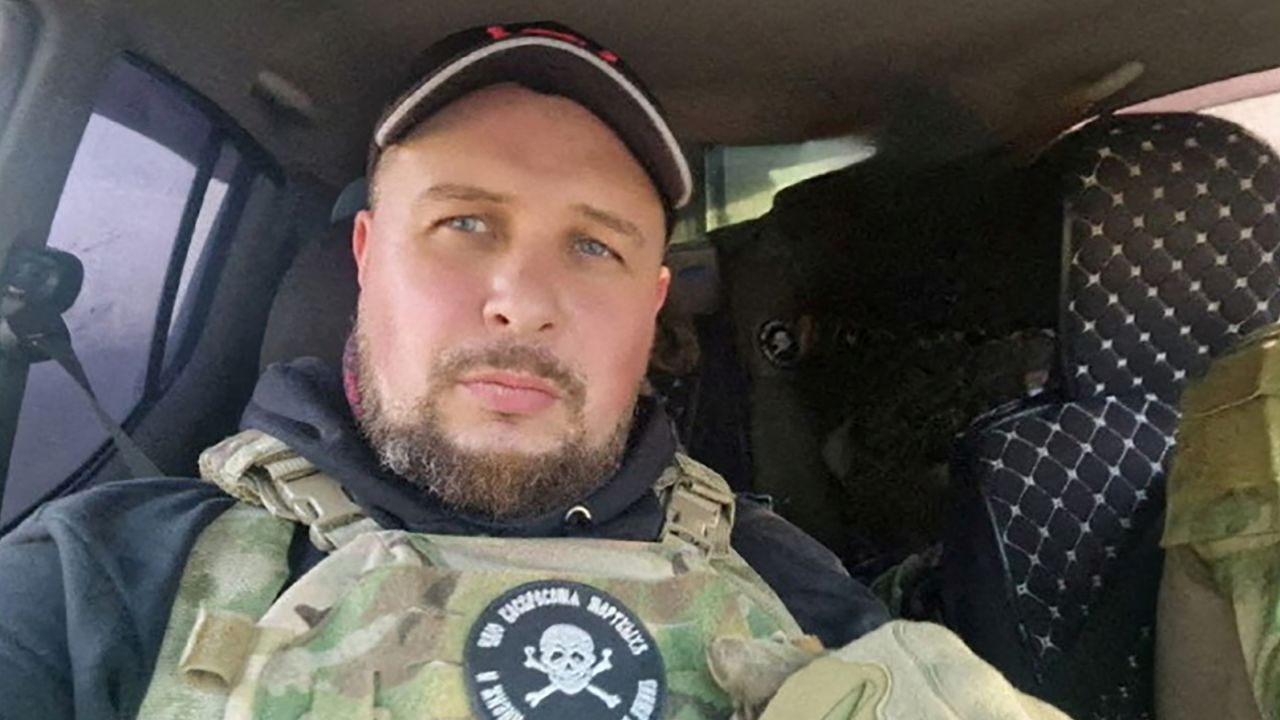 While an enthusiastic supporter of the Russian invasion, Tatarsky was among a small but influential group of military bloggers sometimes critical of the way the campaign was conducted.
In a series of posts last year, he condemned the commander in charge of a disastrous attempt to cross a river in the Donetsk region.
"Until we find out the name of this 'military genius' who wasted the BTG [battalion tactical group] near the river and he publicly answers for this, there will be no reforms in the army," he wrote.
Tatarsky later told CNN that he was not criticizing the entirety of what the Kremlin continues to call Russia's "special military operation" but "individual episodes," and he still believed Russia would achieve its goals in Ukraine.
"I will personally make every effort to it," he added, speaking to CNN by text message in May.
Nevertheless, he also called for broad change.
"All the areas need to be improved," he said. "Each war reveals some drawbacks, shortcomings, or false experiences, experiences that need to be adjusted to the modern realities. So absolutely all spheres need reform," Tatarsky said.
He was also critical of the Russian withdrawal from part of Kherson last November.
More recently he became vocal in his support of the Wagner private military company and its offensive in Bakhmut. He posted video of Wagner head Yevgeny Prigozhin visiting one of the sports centers he was affiliated with.
Hours before he was killed, Tatarsky posted a supportive comment over a photo of a Wagner recruitment billboard, saying: "It's nice to see such outdoor advertising. I also saw billboards with "Wagners" in Rostov."
After Tatarsky's death, Prigozhin made a brief video recording, purportedly from the Ukrainian city of Bakhmut. In the video, posted to Telegram, Prigozhin claimed to be hoisting a Russian flag inscribed with the words, "to the good memory of Vladlen Tatarsky."