Premarket stocks: CEOs are tired of being held responsible for gun regulation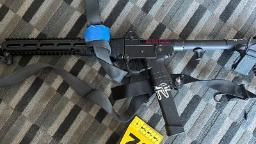 A version of this story first appeared in CNN Business' Before the Bell newsletter. Not a subscriber? You can sign up right here. You can listen to an audio version of the newsletter by clicking the same link.

New York
CNN
 — 

Americans have grown used to corporate executives treading the well-worn paths of the Northeast corridor to convene alongside elected officials in Washington, DC, and discuss geopolitics, policy and all that's in-between.
In 2017, major CEOs from across the country came together to oppose North Carolina's transgender bathroom law. In 2019, they called abortion bans "bad for business."
After the deadly attack on the US Capitol on January 6, 2021, many of corporate America's biggest names denounced the rioters and pledged to halt their political giving.
Recently, more than 1,000 companies promised to voluntarily curtail their operations in Russia in protest of Moscow's war on Ukraine.
Dick's Sporting Goods stopped selling semi-automatic, assault-style rifles at stores and Citigroup put new restrictions on gun sales by business customers after the mass shooting at a high school in Parkland, Florida, in 2018.
A year later, after mass shootings at a Walmart in El Paso, Texas, and a nightclub in Dayton, Ohio, Walmart ended handgun ammunition sales.
Corporate leadership has long been vocal on the issue of gun control – in 2019 and again this past summer nearly 150 major companies – including Lululemon, Lyft, Bain Capital, Bloomberg LP, Permanente Medical Group and Unilever – called gun violence a "public health crisis" and demanded that the US Senate pass legislation to address it.
That's why corporate America's silence in the wake of the latest mass shooting at a school in Nashville is so jarring. The United States has come to rely on the increasing power of large corporations as political advocates.
But Yale professor Jeffrey Sonnenfeld, a vocal advocate of corporate social responsibility who has a direct line to major CEOs around the globe, said that top executives are forlorn. Their previous efforts haven't done much to push the needle on gun control legislation and without more backing, they don't know what else they can do at the moment, he said.
Before the Bell spoke with Sonnenfeld, who runs Yale School of Management's Chief Executive Leadership Institute, a nonprofit educational and research institute focused on CEO leadership and corporate governance.
This interview has been edited for clarity and length.
Before the Bell: CEOs have been quiet about gun reform since the latest mass school shooting in Nashville, have you heard anything about plans to speak out?
Jeffrey Sonnenfeld: Where is everybody else? Where is all of civil society? CEOs are just one group of people and it's like we're turning to them to be our saviors on every topic. They've joined causes with valor and nobility but they can't just be taking cause after cause as if there's nobody else in society. The social change that happened in the 1960s wasn't being led primarily by CEOs. Social changes really happened when we saw the interfaith activity of clergy locking arms and canvassing legislators. We saw campuses alive and aroused. Where's all the student activism?
The CEOs are still the most active even if they're less active than they were six months ago. They're not there as hired hands of shareholders to fill the role of politicians and civic leaders. They're there to join that chorus, but they don't want to be the only one singing.
So is this what you're hearing from top CEOs? Have they gotten tired of advocating?
I just got off of a CEO call on voting rights and this morning we had a forum on sustainability – CEOs are still the most active on these fronts. It's the same thing on immigration reform. If a CEO was working an 18 hour day on a 12 day week, they still couldn't address all of the issues that need addressing.
The nation's CEOs are waiting for everybody else to join them. They don't need to restate something they've already stated. They've jumped in the pool, where's everybody else?
So what do you think has led to this complacency amongst Americans and the growing reliance on CEOs to advocate on our behalf?
They've taken a very strong stance and they've gone out further than the general public. They are where the general public is on surveys, but they're not where the general public is on action in the streets. So we're ready for others to now do something. Enough already on saying 'what are the CEOs doing?' Social capital is as valuable as financial capital. CEOs understand that in their soul, they want there to be social capital. They want there to be public trust, but they need the rest of civil society to join them. And that's their frustration.
It sounds like CEOs are frustrated?
Yeah, they're frustrated.
But don't these CEOs hold the purse strings in terms of donating to powerful politicians?
You would think that, but since the 2020 elections much less of campaign contributions have come from big business. Since the 2021 run on the Capitol, a lot of businesses either had an official moratorium or they've given mere pennies to politicians. The common impression on the street that CEOs are controlling campaign purses strings is 100% wrong.
By CNN's Chris Isidore
Tesla reported. a modest 4% rise in sales in the first quarter compared to the final three months of last year, despite a series of price cuts on its lower priced vehicles and talk by CEO Elon Musk about strong demand at those lower prices.
The first quarter also marked the fourth straight quarter that Tesla has produced more vehicles than it has delivered to customers. Some of that may be due to the ramp up in production at two new factories, one in Texas, the other in Germany, which opened last spring, and a lag between that increased production and sales.
Tesla said there was an increase in the number of its more expensive models, the Model S and Model X, in transit to Europe, the Middle East and Africa, as well as to the Asia Pacific region.
But it does mean that over the last 12 months Tesla has produced 78,000 more cars than it has sold, suggesting that talk of strong demand by Tesla executives may not be backed up by the numbers.
"Early this year, we had a price adjustment. After that, we actually generated a huge demand, more than we can produce, really," said Tom Zhu, Tesla's executive in charge of global production and sales. "And as Elon said, as long as you offer a product with value at affordable price, you don't have to worry about demand."