Live updates: Russia's war in Ukraine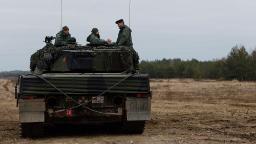 Russia is trying to deprive Ukrainians of access to water supplies — with dangerous implications for water storage facilities needed to operate nuclear power plants — Ukrainian Prime Minister Denys Shmyhal said on Tuesday. 
"We are losing thousands of cubic meters of water due to the Kakhovka HPP [Hydroelectric Power Plant] floodgates being partially damaged and then intentionally opened by the Russians," Shmyhal said in a Telegram post. "Some of the settlements that are getting water from the Dnipro river may be left without access to drinking water." 
Shmyhal said the threat to Ukraine's nuclear power plants is even bigger, adding, "A drop in the water level in the storage facility could lead to improper operation of cooling systems at the Zaporizhzhia NPP."
Shmyhal noted that the threat to water supplies follows repeated attacks on Ukraine's power grid. 
"The civilized world should not keep silence," Shmyhal added. "Ukraine calls for all available means to put pressure on Russia to close the floodgates and restore the hydraulic structures at the Kakhovka HPP or let Ukrainian technicians do it."
Some context: Disruptions to Ukraine's water supply have been an ongoing and wide-reaching issue since the Russian invasion. 
In December, CNN reported that Russia's persistent and pervasive attacks on Ukraine's energy grid had, at least temporarily, left millions of civilians without electricity, heat, water and other critical services in the bitter winter months. Meanwhile in November, one of Ukraine's largest state hospitals was "on the verge of evacuating" some patients after it lost water supply because of Russian air strikes, a regional official told CNN. 
CNN's Olga Voitovych, Sophie Tanno, and Gabriel Kinder contributed reporting.