Japan 'strongly presumes' Chinese spy balloons entered its airspace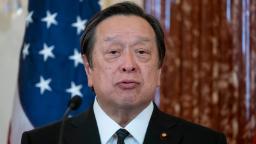 Tokyo
CNN
 — 

Japan said Tuesday it "strongly" suspects three Chinese spy balloons entered its airspace between 2019 and 2021.
Three "balloon-shaped flying objects" were detected between November 2019 and September 2021, the Japanese Ministry of Defense said, adding that these were "strongly presumed" to be "unmanned reconnaissance" aircraft flown by China.
The ministry said it had asked the Chinese government to "confirm the facts regarding this matter through diplomatic channels" and strongly requested that this not happen again.
China has yet to respond publicly to Tokyo's claims or to a CNN inquiry about them.
The news follows the flight of a Chinese high-altitude balloon over the continental United States earlier this month.
US officials have claimed that balloon, which was shot down by a US Air Force jet off the East Coast near the Carolinas, was part of a large Chinese military surveillance program that has conducted at least two dozen missions over at least five continents in recent years.
China, however, has claimed it was a civilian research vessel blown off course.
The Japanese Ministry of Defense warned in its statement that it would "strive to collect and monitor" any balloons that intruded into Japan's airspace without permission.
Asked if Japan Air Self-Defense Force jets would shoot down any unauthorized balloons, Defense Minister Yasukazu Hamada said this was possible.
"Necessary measures may be taken when deemed necessary to protect the lives and property of citizens," Hamada said.