FTX founder says there was a security incident at parents' home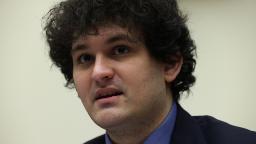 CNN
 — 

Attorneys for disgraced FTX founder Sam Bankman-Fried urged the judge in his fraud case to keep the names of two people who co-signed his $250 million bond secret because of actual threats he says his family has received.
Bankman-Fried's lawyer said there was a "security incident" at his parents' home where the former FTX CEO is released on home confinement.
In a letter to Judge Lewis Kaplan opposing nearly a dozen media organizations request to make the identities of the co-signers known, Bankman-Fried's lawyers described the incident.
"Recently, the Bankman-Frieds had a security incident at their home when a black car drove into the metal barricade set up outside their home. Three men got out of the car. When the security guard on duty confronted them, the men said something to the effect of: "You won't be able to keep us out." The men got back in the car and quickly drove away before the security guard was able to see the license plate," they wrote.
Bankman-Fried's parents — Joseph Bankman and Barbara Fried — are both Stanford University law professors. A judge released Bankman-Fried on a $250 million bond and required him to have an electronic monitoring bracelet and be under house arrest at his parents' home in Palo Alto, California.