500 evacuated as massive fire breaks out in one of Seoul's last slums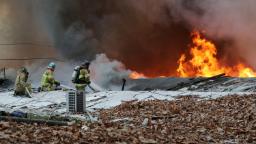 Seoul
CNN
 — 

Around 500 people were evacuated from their homes on Friday after a fire broke out in Guryong Village, one of the last remaining slums in South Korea's capital Seoul, according to fire officials.
The fire broke out around 6:28 a.m. in the fourth district of the village, said Shin Yong-ho, an official with the Gangnam Fire Station, in a televised briefing. First responders arrived around five minutes later, he said.
No deaths or injuries have been reported so far.
Around 60 homes are believed to have burned down, Shin said, adding most structures are made from vinyl plywood panels.
More than 800 response personnel have been mobilized, including firefighters, police and governmental workers, while 10 helicopters have been deployed to assist with the response, he said.
Authorities have long warned that Guryong residents are at particular risk of disasters, with the Gangnam government saying on its website that the slum was "vulnerable to fires" in 2019.
The slum has long been seen as a symbol of the gap between rich and poor in South Korea, Asia's fourth-largest economy. It's part of the wealthy, glittering Gangnam district, made famous by Psy's 2012 song "Gangnam Style" and sometimes called the Beverly Hills of Seoul.
Gangnam's high-rise apartment buildings lie less than a kilometer from the shacks of Guryong, where many residents live in cramped makeshift housing built from materials like wood and corrugated iron.
Though plans to redevelop the area stretch back at least a decade, numerous proposals have faltered due to disagreements between local governing bodies and negotiations over land compensation.
According to the Gangnam government site, 406 households – more than a third of the slum's population – had been relocated as of 2019.