Xi-Putin meeting: China's president arrives in Moscow for talks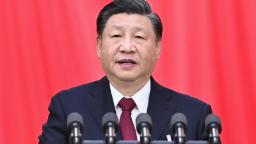 CNN
 — 

Xi Jinping has landed in Moscow for meetings with Vladimir Putin, Russian state media TASS reported Monday, the first time China's leader has visited his neighbor and close strategic partner since Russia began its unprovoked invasion of Ukraine.
Xi's visit comes days after the International Criminal Court in the Hague accused Putin of committing war crimes in Ukraine and issued a warrant for his arrest.
Ukraine is expected to be a key point of discussion during Xi's three-day visit, which will be closely watched for any potential impact on an entrenched conflict that has killed tens of thousands and triggered a mass humanitarian crisis.
Xi's trip is likely to be seen in some Western capitals as a ringing endorsement of the Russian leader in the face of broad international condemnation of his war – unless the Chinese leader is somehow able to deliver a concrete diplomatic breakthrough.
"One way or another, the topics which are touched upon in [Beijing's peace] plan, of course, will inevitably be touched upon during the exchange of views on Ukraine [between Putin and Xi]," Kremlin spokesperson Dmitry Peskov told reporters on Monday.
"Of course, exhaustive explanations will be given by President Putin, so that [Chinese] President Xi Jinping can get a first-hand view of the current situation from the Russian side," he added.
China has billed the trip as a "journey of friendship, cooperation and peace," amid a push from Beijing to frame itself as a key proponent for the resolution of the conflict.
But Western leaders have expressed skepticism about China's potential role as a peacemaker and its claimed neutrality. The United States and its allies have instead since last month warned that China is considering sending lethal aid to Russia for its war effort, which Beijing has denied.
This is a breaking story. More details soon…