Xi Jinping speaks with Ukraine's Zelensky for first time since Russia's invasion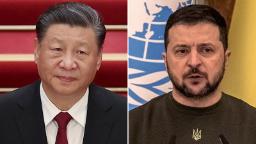 CNN
 — 

Ukrainian President Volodymyr Zelensky said Wednesday he spoke with Chinese President Xi Jinping, Moscow's most important ally, in their first phone call since the start of Russia's invasion of Ukraine.
"I had a long and meaningful phone call with Chinese President Xi Jinping. I believe that this call, as well as the appointment of Ukraine's ambassador to China, will give a powerful impetus to the development of our bilateral relations," Zelensky said.
Chinese state broadcaster CCTV also reported the call, which comes after Xi met with Russian President Vladimir Putin in Moscow in March.
China has claimed neutrality in the conflict between Ukraine and Russia, with Beijing calling for peace in the conflict. But it has also refused to condemn Russia's invasion or make any public call for Russia to withdraw its troops.
Its officials have instead repeatedly said that the "legitimate" security concerns of all countries must be taken into account and accused NATO and the US of fueling the conflict.