Venezuela landslide kills at least 39 people, over 50 missing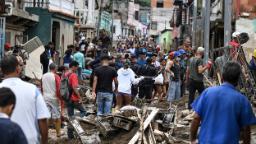 CNN
 — 

A landslide in Venezuela on Sunday has killed at least 39 people and left over 50 missing in the north central state of Aragua, Venezuela's leader Nicolas Maduro announced Tuesday.
Maduro also hinted that hopes to safely rescue the missing are fading. "We are approaching almost 100 victims, fatal victims, in this tragedy," he said, in a video statement to state broadcaster VTV.
More than three days have passed since the catastrophic landslide came down in the Santos Michelena municipality, after days of heavy rainfall.
The downpour caused five streams near Las Tejerías to overflow, Venezuelan Vice President Delcy Rodríguez said on Monday, adding that search efforts were ongoing.
More than 1,000 officials from the National Risk Management System and police officers are participating in the search and rescue operation, according to Carlos Pérez, deputy minister for Risk Management and Civil Protection.
Maduro also announced emergency funding had been made available to survivors, and called for patience from the local population.
It will take time to reach all the families affected by the tragedy, he said.
At least 1,300 families have been affected by the landslide, according to the Ministry of Communications, which updated the tolls of the dead and missing.
In total, 317 homes have been destroyed and 757 homes were affected by the landslide, according to Rodriguez. More than 10,000 families have experience water outages, he added.
On Sunday, Venezuela began three days of national mourning for victims of the disaster.