US military to get expanded military base access in the Philippines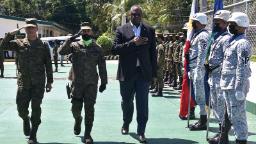 CNN
 — 

The US military will gain access to four more bases in the Philippines under an agreement announced as US Defense Secretary Lloyd Austin visited Manila on Thursday.
In addition, the two allies said projects at five bases already covered in the 2014 Enhanced Defense Cooperation Agreement (EDCA) were almost completed.
"The EDCA is a key pillar of the US-Philippines alliance, which supports combined training, exercises, and interoperability between our forces. Expansion of the EDCA will make our alliance stronger and more resilient, and will accelerate modernization of our combined military capabilities," a joint announcement said.
The announcement did not give the location of the bases to which the US military will gain new access.
It only said the new locations "will allow more rapid support for humanitarian and climate-related disasters in the Philippines, and respond to other shared challenges," without specifying what those challenges are.
Several US defense officials told CNN earlier this week that Washington was seeking to expand its access to bases in the Philippines with an eye toward China, as part of an ongoing shift in force posture in the Indo-Pacific region.