US announces visa ban on individuals 'undermining' Nigeria's election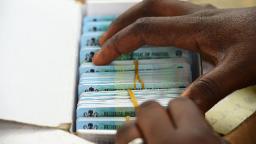 CNN
 — 

The United States has announced visa restrictions on individuals believed to be "undermining the democratic process" in a recent election in Nigeria.
"These individuals will be found ineligible for visas to the United States under a policy to restrict visas of those believed to be responsible for, or complicit in, undermining democracy in Nigeria. Certain family members of such persons may also be subject to these restrictions," US Secretary of State Antony Blinken said in a statement Wednesday.
The statement did not specify the names of those individuals.
The US announcement comes ahead of Nigeria's general elections on February 25. The polls will determine a successor to the country's President Muhammadu Buhari, who is serving a final second term.
Additional people who "undermine the democratic process" in Nigeria – including in the lead-up to, during and following Nigeria's 2023 elections – may be found ineligible for US visas, Blinken said.
"The decision to impose visa restrictions reflects the commitment of the United States to support Nigerian aspirations to combat corruption and strengthen democracy and the rule of law," he continued.