Ukraine invasion anniversary and Russian war news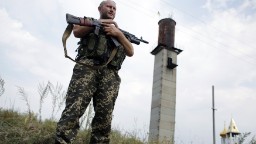 It began in the dead of night. 
At 4 a.m., at border crossings and sea ports in north, east and south Ukraine, rolling convoys of Russian tanks pierced through the pitch-black calm, launching an all-out invasion that brought to a crashing end an era of relative peace in Europe.
Few Ukrainians will forget the morning of Feb. 24, 2022 when millions were pulled from their beds by the wail of air raid sirens and the explosions of Russian missiles in Kyiv, Kharkiv, Odesa, Sumy, Zaporizhzhia and dozens more cities and towns.
The invasion upended the global order and sent economies into freefall. But its most terrible weight was felt by those caught in its crosshairs, that morning and in the year since. Thousands of Ukrainian civilians have died during the largest ground war in Europe since 1945; millions have fled west, seeking safety; many stayed to fight. 
For 12 months, Ukraine's armed forces have mounted a resilient defense, defying expectations in Moscow that the invasion would be completed in days. Russian tanks never reached Kyiv's city center; instead, they were pushed out of northern Ukraine, and stifled in grinding battles in the east and south. 
But episodes of bloodshed and savagery at the hands of Russian forces have struck at the heart of Ukrainians and appalled onlookers around the world. 
Europe and the United States have rallied against Russian President Vladimir Putin, forging the widest geopolitical divide between East and West since the depths of the Cold War. 
And fears of nuclear attacks have shaken observers thousands of miles from the frontlines.
On Friday, as the war thunders on, Ukrainians and millions around the world will stop to reflect on the horrors of the past year and the uncertain future that lies ahead.
Watch the moment that CNN's Matthew Chance first heard explosions in Kyiv: