Two flight attendants file lawsuit, claim they were assaulted by former Lebanese PM Saad Hariri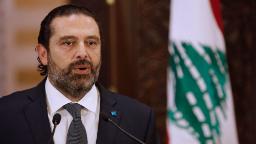 CNN
 — 

Two flight attendants claim they were sexually assaulted by then Prime Minister of Lebanon Saad Hariri aboard his private plane, according to a lawsuit filed in federal court in New York.
The complaint was filed in US District Court on March 20, against Saad El-Din Rafik Al-Hariri and five co-defendants.
The plaintiffs, identified in the lawsuit as Jane Doe 1 and Jane Doe 2, allege Hariri of the "brutal workplace rape" of Doe 2 according to court documents, as well as, "multiple instances of false imprisonment, sexual assault, and sexual harassment of both Plaintiffs."
The incidents allegedly happened from 2006 to 2009 aboard a Saudi Oger plane, a company owned by Hariri, according to court documents.
The two plaintiffs worked for Saudi Oger, according to the lawsuit. Doe 1 quit her job in 2009, and Doe 2 was fired, according to court documents.
The lawsuit also alleges the former Prime Minister subjected both plaintiffs "to an atmosphere permeated with inappropriate sexual contact, coercion, harassment, and demands for sexual favors."
"Defendant S. HARIRI abused his position of authority in the airline for his own sexual gratification while repeatedly victimizing both Plaintiffs," the documents added.
Hariri's press office denied the accusations in a statement to CNN on Saturday saying the lawsuit is, "full of completely false and unacceptable accusations, aimed at provocation and slander against Prime Minister Hariri."
The statement also claims this is the third time the two plaintiffs have tried to sue Hariri in New York, saying "this is nothing but a defamation campaign orchestrated by two women who are looking for financial gain." The statement adds, "there is no truth to these baseless allegations."
CNN has reached out to the plaintiff's attorney but has not yet received a response.
The lawsuit was filed under New York's Adult Survivors Act and seeks unspecified damages.
Hariri previously served as the Prime Minister of Lebanon from 2009 to 2011 and again from 2016 to 2020.