Total: Adani will ask Big 4 accounting firm for 'general audit'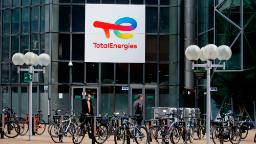 London
CNN
 — 

One of Gautam Adani's biggest international partners, TotalEnergies

(TOT), said Friday that his Indian conglomerate is preparing to appoint a global accounting firm to conduct a "general audit" of its business.
In a statement detailing what it described as its "limited" exposure of $3 billion to Adani Group businesses, the French company said it "welcomes the announcement by Adani to mandate one of the 'big four' accounting firms to carry out a general audit."
Investors have been fleeing Adani's companies since a US short seller, Hindenburg Research, accused the group of fraud and stock market manipulation last month. Adani has denied the allegations but shares in Adani Enterprises, his flagship firm, have lost more than 60% since they surfaced last week. In total, Adani Group companies have lost $110 billion in market value.
One of the world's biggest energy companies, TotalEnergies is exposed to Adani via investments in four joint ventures in India.
Adani Group declined to comment on whether it was planning to appoint one of the Big 4 accounting firms as auditor. CNN contacted the four auditors — Deloitte, EY, KPMG and PwC — but none of them responded immediately to a request for comment.
Adani Enterprises used a small Indian firm called Shah Dhandharia & Co to audit its 2021-2022 accounts, according to its annual report. A document on Adani Enterprises' website dated January 13, 2023, also names Shah Dhandharia as "statutory auditors" and provides the firm's website address.
The address now appears invalid. In its report, Hindenburg Research said historical archives of the firm's website showed that it had only four partners and 11 employees.
Trading in five listed Adani firms was halted Friday after they fell to daily limits set by the Indian stock exchange. They include Adani Total Gas and Adani Green Energy, ventures in which TotalEnergies has invested.
In its statement, the French energy giant said it had made investments in Adani's entities "in full compliance" with Indian laws and with its own internal governance processes. The due diligence had been completed to its "satisfaction" and was "consistent with best practices," it added.
The confident tone stands in stark contrast to the devastating allegations made by Hindenburg Research in its January 24 report. The Adani Group has denounced it as "baseless" and "malicious," but analysts say the group hasn't convincingly answered the questions raised by the report.
Adani is seen as a close ally of India's prime minister, Narendra Modi, and is one of the world's richest people. Last week, he had a net worth of $120 billion, making him the fourth-richest person globally. His net worth has now fallen to a little more than $61 billion and claims the 21st spot on Bloomberg's Billionaires Index.
— Diksha Madhok in New Delhi and Anna Cooban in London contributed to this article.