Tel Aviv car-ramming attack: Italian tourist killed and seven injured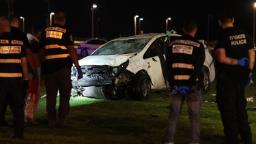 CNN
 — 

An Italian tourist was killed and seven people wounded in a car-ramming attack in the Israeli city of Tel Aviv on Friday evening.
Israeli police said a vehicle was driven onto the bike path of the Tel Aviv boardwalk, hitting pedestrians before it overturned on a lawn.
When police officers arrived at the scene, "they noticed the driver trying to reach for what looked like a rifle-like object that was with him, and neutralized him," Israeli police wrote on Twitter.
The man killed in the attack has been named by Israeli and Italian authorities as Alessandro Parini. Italian media said he was a 35-year-old lawyer.
In a tweet posted Friday, Italy's Prime Minister Georgia Meloni expressed "deep condolences for the death of one of our compatriots, Alessandro Parini, in the terrorist attack that took place in the evening in Tel Aviv," and condemned the "cowardly attack that hit him."
Three of the seven people injured in the attack are still in hospital as of Saturday morning local time, according to Ichilov Medical Center. All of those killed or injured in the attack were tourists.
Police said that the car was driven by a 45-year-old resident of the village of Kfar Kasem in Israel.
Israeli authorities described the incident as a "terror attack."
The attack occurred after Israel struck Palestinian militant targets in southern Lebanon and Gaza, amid days of tensions in the region following police raids on the al-Aqsa mosque in Jerusalem.
The leader of the United Arab List and Knesset Member Mansour Abbas rejected any "use of violence against any citizen."
"Especially in these difficult times, it's important for me to emphasize… this is not the way of the Arab community and Arab citizens in Israel," Abbas said Saturday.