Spain braces for exceptionally high temperatures expected to break April records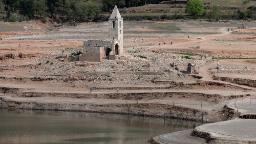 CNN
 — 

A mass of hot and dry air blowing north from Africa has led to "exceptionally high" temperatures that are more "typical of summer" this week in central and southern Spain, the national weather service AEMET reported.
Temperatures this week are expected to be 15 to 20 degrees Celsius above normal for this time of year, with a chance they could hit 40 degrees Celsius (104 degrees Fahrenheit) in some places.
In large parts of Spain, temperatures have exceeded 30 degrees Celsius (86 degrees Fahrenheit). On Thursday, they are expected to surpass 37 degrees Celsius (98.6 degrees Fahrenheit) in the Guadalquivir River valley, which includes the cities of Cordoba and Seville, according to the Spanish national weather service.
Nighttime temperatures are also forecast to remain high, not dipping below 20 degrees Celsius (68 degrees Fahrenheit) in some places.
Schools in central and southern Spain are concerned about protecting students and staff from overheated classrooms that don't have air conditioning, Spanish media reported. Some are considering shifting timetables to put outdoor exercise activities earlier in the school day.
The heat could increase risks of wildfires in the country, which has already seen unusually early fires burn more than 10,000 acres in the country's eastern region of Castellon in late March.
The high temperatures come as a prolonged drought has gripped parts of southern Spain, as well as the northeast of the country, near Barcelona. Rainfall has been very low, with March levels just 36% compared with the monthly average rainfall, Spain's Ministry of Ecological Transition reported.
The country has experienced 36 consecutive months of below-average rainfall, with reservoirs at only about half of their capacity, Reuters reported. In Catalonia, reservoir water levels are at about 25% and there are already some water restrictions in place.
For now, northern Spain has been spared from the latest very high temperatures, the national weather service said.
The early extreme heat is expected to continue into the weekend.