Southwest posts quarterly loss and warns more losses are ahead after service meltdown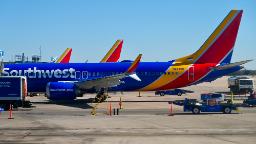 New York
CNN
 — 

Southwest Airlines reported a loss for the fourth quarter because of the company's service meltdown over the holiday travel season, and it warned the costs from those problems will result in another loss in the first quarter.
The airline was forced to cancel more than 16,700 flights between December 21 and 29, roughly half its schedule during that period. Thursday, Southwest said the meltdown cost the airline about $800 million, resulting in an adjusted net loss in the quarter of $226 million. Still, it managed to report an adjusted annual profit of $723 million, a turnaround from $1.3 billion it lost in 2021 amid the pandemic.
It said it expects another loss in the first quarter due to the continued impact and costs associated with meltdown. The first quarter is typically the slowest and least profitable period for US air travel. However, Southwest said it is encouraged by strong bookings for March.
Southwest

(LUV)'s quarterly loss of 38 cents a share was far worse than Wall Street analysts' forecast. Shares of Southwest

(LUV) lost 5% in morning trading because of that miss and especially its sour outlook.
The airline said it expected a first-quarter loss because of an increase in passengers canceling reservations and a lower level of bookings for January and February, which the airline said "are assumed to be associated with the operational disruptions in December." Those lost bookings in the current quarter are expected to cost it between $300 million to $350 million.
To repair customer relations, Southwest has given affected passengers 25,000 bonus points in frequent flier accounts, as well as travel vouchers. And in addition to refunding fares for canceled flights, it is reimbursing those passengers who bought tickets on other airlines or incurred other unexpected travel costs.
Even with the meltdown, which cost Southwest $410 million in lost revenue when it had to refund tickets to passengers on canceled flights, it still reported record fourth quarter sales of $6.2 billion, up 7% from the same quarter of 2019, just before the pandemic.
Southwest brought in that record revenue even though the number of seats it was able to fly in the quarter was down 6% from the same period of 2019, before the pandemic, when adjusted for miles flown.
The strong demand meant that Southwest passengers paid 10.6% more for every mile they flew than they were paying in late 2019.
A massive winter storm started the service problems, but Southwest had a much tougher time recovering from the weather than other airlines because of an antiquated crew scheduling system that was quickly overwhelmed, leaving the airline unable to get the staffing it needed to locations to fly flights. Nearly half of its schedule was canceled during the December 20 to 29 period. Some days, as many as 75% of its scheduled flights were grounded.
The airline said that it is "conducting a third-party review of the December events and … reexamining the priority of technology and other investments planned in 2023."
In an interview on CNBC Thursday CEO Bob Jordan defended Southwest's investment in technology, saying the company had been spending about $1 billion a year on upgrading its technology and would spend closer to $1.3 billion this year.
"The idea we don't invest in technology just isn't correct," he said. "Now there's always things to work on, and we have things to work on in the crew scheduling area, for example, and we'll do that."
He said that GE Digital has already come up with a fix that is being tested for some of the problems the crew scheduling system had during the meltdown. And he said that having more crew scheduling staff in place is also part of the solution.
"It's not one thing [that caused the meltdown.] This was a very complicated series of events," he told CNBC.
He said that so far Southwest has been No. 1 in on-time performance among US airlines in January.
"So, of course, we're applying what we've learned and we're actually performing very very well."
He again apologized to both customers and Southwest employees but said the bookings for March and beyond suggest that the airline is not losing its customers base.
"There's a lot of evidence our loyal customers are sticking with us," he said.
Southwest has traditionally been the most profitable US airline by a large margin. Many of its rivals were in and out of bankruptcy in recent decades due to losses brought on by recessions and events like the 9/11 attack, but Southwest had put together a string of 47 consecutive profitable years before the pandemic. In 2020, Southwest and all other airlines to reported a loss.
All other airlines lost money again in 2021, excluding special items such as financial support from the federal government, and most airlines reported another quarterly loss in the first three months of 2022 as the surge in Covid cases caused by the Omicron variant limited demand for travel.
But demand to fly had been very strong starting with the Spring Break travel season, and air fares soared as passengers paid top dollar to take long-delayed trips. Southwest and most other US airlines reported profits in the second and third quarters, and most have either reported profitable fourth quarters or are forecast to do so – as Southwest had been before the meltdown.
Three other US airlines – American

(AAL), JetBlue

(JBLU) and Alaska

(ALK) all reported fourth quarter profits near forecasts Thursday, although JetBlue

(JBLU) warned of a much bigger than expected loss in the current quarter.