Solomon Peña to remain behind bars as he awaits trial in shootings at New Mexico lawmakers homes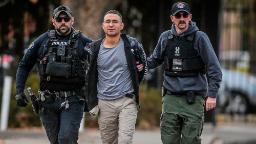 CNN
 — 

The failed Republican New Mexico state House candidate who is accused of masterminding shootings at Democratic officials' homes will remain in jail as he awaits trial, a judge ruled Monday.
Second Judicial District Court Judge David Murphy said Solomon Peña poses a threat to the targets of the shootings and their family members. He also pointed to Peña's history of felony convictions involving property crimes and the use of stolen vehicles, mirroring the tactics police say were used in the shootings in December and early January.
Prosecutor Natalie Lyon said Peña led a team that fired shots into the homes of elected officials. An investigator said Peña provided the guns used in the shootings, suggested the use of stolen cars to avoid being identified and was present at the fourth and final shooting.
Albuquerque Police Detective Conrad Griego, citing a confidential witness, said Peña had complained that at least one of the shootings occurred too late at night, with bullets fired too high into the house – decreasing the chances of hitting the target.
"He's providing the firearms. He is helping other individuals come up with a plan," including using stolen vehicles, Lyon said.
Pena's attorney, Roberta Yurcic, argued that Peña was never found to be in possession of a firearm, and sought to cast doubt on the credibility of the confidential witness.
The detention hearing came a week after Peña, who lost a 2022 election for House District 14, was arrested by a police SWAT team. Authorities say he hired and conspired with four men to shoot at the homes of two state legislators and two county commissioners since the election – in what Albuquerque's mayor described as politically motivated attacks.
No one was injured in the shootings, although a bullet flew through a child's bedroom while the child was inside.
Peña faces preliminary charges of felon in possession of a firearm; attempted aggravated battery with a deadly weapon; criminal solicitation; and four counts each of shooting at an occupied dwelling, shooting at or from a motor vehicle, and conspiracy, according to a warrant.
He has been held without bail since he was taken into custody.
"Mr. Peña and I look forward to a full and fair investigation of these claims," Yurcic said in a statement. "I plan to fully defend Mr. Peña and fiercely safeguard his rights throughout this process."
False and unfounded claims about election fraud have exploded nationwide in recent years and fueled anger and threats of violence against elected officials – even in local politics.
Peña lost his race to Democratic state Rep. Miguel Garcia 26% to 74% on November 8, 2022. A week later, he tweeted he "never conceded" the race and was researching his options.
According to Albuquerque police, Bernalillo County Commissioner Adriann Barboa's home was shot at multiple times on December 4, incoming state House Speaker Javier Martinez's home was shot at on December 8, former Bernalillo County Commissioner Debbie O'Malley's home was shot at on December 11 and state Sen. Linda Lopez's home was shot at on January 3.
Peña's arrest warrant affidavit identifies two of the alleged co-conspirators as Demetrio Trujillo and José Trujillo. According to a relative, Demetrio is José's father.
"There is probable cause to believe that soon after this unsuccessful campaign, he (Peña) conspired with Demetrio, José, and two brothers, to commit these four shootings at elected local and state government officials' homes," Albuquerque police wrote in the affidavit. "Solomon provided firearms and cash payments and personally participated in at least one shooting."
Albuquerque police said they were investigating whether Peña's campaign was funded in part by cash from narcotics sales that were laundered into campaign contributions.
Police say José Trujillo, who donated $5,155 to Peña's failed campaign and listed his occupation as "cashier," was arrested on January 3 – the night of the last of four shootings – on an outstanding felony warrant.
A Bernalillo County sheriff's deputy found him with more than $3,000 in cash, nearly 900 narcotics pills worth roughly $15,000 and two guns, one of which was ballistically matched to that day's shooting, police said. He was stopped driving Peña's car, said a law enforcement official who spoke on the condition of anonymity because the investigation is ongoing.
Attempts to reach attorneys for the Trujillos were not successful.
Peña previously served almost seven years in prison after a 2008 conviction for stealing a large volume of goods in a "smash and grab scheme," CNN affiliate KOAT reported.