Russia arrests Chinese LGBTQ blogger for violating so-called same-sex 'propaganda' law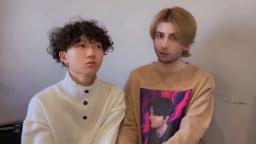 CNN
 — 

Russian authorities arrested a Chinese LGBTQ blogger Wednesday for allegedly violating a law that bans so-called same-sex "propaganda," according to Adel Khaydarshin, a lawyer representing the blogger and his partner.
Chinese national Haoyang Xu was found guilty during a hearing Thursday, Khaydarshin said. He's being held in a temporary detention center for foreigners and faces deportation from Russia, according to a statement from the court that Khaydarshin gave to CNN.
This comes months after Russian President Vladimir Putin signed a bill that expanded an existing ban on so-called LGBTQ "propaganda" in Russia. It made it illegal for anyone to promote same-sex relationships or suggest that non-heterosexual orientations are "normal."
Xu's Russian partner, Gela Gogishvili, has also been charged in connection with the same law, Khaydarshin said. But Gogishvili, who faces fines of up to 200,000 Rubles (more than $2,400 USD), has not yet been arrested, according to the lawyer.
The bloggers have regularly documented their life online through social media as a same-sex couple living in Russia.
According to court documents given to CNN by Khaydarshin, Xu was arrested for allegedly posting videos depicting "non-traditional sexual relations" with Gogishvili.
"Namely, being males, they kiss each other, hug, touch each other on various parts of the body, including in the genital area, while the description of the videos contains the following, How does a gay couple sleep? Kiss me all night," the court document said.
Police said they uncovered the footage during an inspection of the couple's YouTube account, according to the court document.
They also claimed nearly 1,800 of the account's 64,900 subscribers were under 18 years of age, the document says.
CNN is unable to independently verify these claims.
Video posted to the couple's Telegram feed showed police escorting a handcuffed Xu down a staircase. Another image shared on the Telegram feed shows Xu standing beside a police car. The picture's caption says he was being sent to the temporary detention center for foreign citizens.
Xu has not yet been deported; he has the opportunity to appeal the court's decision, the lawyer added.
CNN has reached out to the Chinese embassy in Moscow for comment on the arrest.
The law was first adopted in Russia in 2013 and banned the dissemination of LGBTQ-related information to minors. Since then, the law has been expanded multiple times.
Human Rights Watch has described it as an "unabashed example of political homophobia."
In November 2022, Russia's upper house of parliament unanimously voted to toughen the controversial law to make it apply to Russians of all ages.
Individuals who spread what the bill called "LGBT propaganda" or attempt to do so, can be fined up to 400,000 rubles (about $5,000 USD). Legal entities can be fined up to 5 million rubles (nearly $62,000 USD). Foreigners can be arrested for up to 15 days or deported, according to the text of the bill.
The law was expanded in December 2022, making it illegal for anyone to promote same-sex relationships or suggest that non-heterosexual orientations are "normal."
The ban was rubber-stamped by Putin just days after a harsh new "foreign agents" law came into effect, as the Kremlin cracked down on free speech and human rights amid its military operation in Ukraine.
The package of amendments signed by Putin also included heavier penalties for anyone promoting "non-traditional sexual relations and/or preferences," as well as pedophilia and gender transition. Under the new law, it was banned across the internet, media, books, audiovisual services, cinema and advertising.