Rishi Sunak has had a torrid first 100 days as Britain's leader. But the Conservatives might not be doomed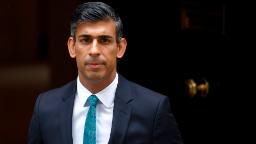 London
CNN
 — 

Earlier this week, Rishi Sunak celebrated his first 100 days as prime minister of the United Kingdom.
In some sense, the fact Sunak was able to reach this milestone at all was reason enough to celebrate. When he took over from his predecessor Liz Truss last autumn she had only managed 49 days, making her the shortest-serving PM in British history.
During her brief, chaotic spell in Downing Street, Truss somehow managed to sink the government Conservative party's poll ratings even lower than her predecessor, Boris Johnson, a man forever remembered as the first prime minister found to have broken the law while in office.
So the fact that Sunak, not universally popular among Conservative party members or parliamentarians, has survived 100 days is an achievement in its own right.
But that certainly doesn't mean his first 100 days have been a success. Since Sunak took up residence in Downing Street, the UK has seen some of the worst public sector strikes in modern history. Only this week, half a million workers went on strike across the country, closing schools, canceling university lectures and bringing most of the rail network to a standstill in what unions say is the biggest single day of walkouts in more than a decade.
Meanwhile, the country's beloved National Health Service is close to collapse, millions are suffering amid a cost-of-living crisis, and the International Monetary Fund says the UK is the only G7 economy forecast to shrink in 2023.
Then there's the scandals.
Sunak was forced to sack the chairman of his political party, Cabinet Minister Nadhim Zahawi, last weekend for a "serious breach" of the Ministerial Code, following days of criticism over his personal tax arrangements.
The PM had instructed his ethics adviser to investigate Zahawi following claims he had paid a penalty as part of a reported £4.8 million ($5.96 million) settlement with tax officials. It was alleged that Zahawi did not declare the dispute with tax authorities.
It is also widely expected that the PM will be forced to sack his deputy Dominic Raab, who is being investigated following multiple claims that he bullied civil servants over a number of years.
Raab denies any wrongdoing and says he has behaved professionally at all times.
Other members of Sunak's inner circle are also facing scrutiny, raising questions about the PM's judgment, especially to those he deems to be loyal.
The poll ratings for his ruling Conservative Party, while slightly better than when he first took office, are still consistently 20 points lower than that of the official opposition Labour Party. His personal approval ratings also leave much to be desired.
It would be reasonable to assume that given these poll ratings and the fact the Conservatives have been in power since 2010, the next scheduled election in 2024 should be a shoe-in for the Labour Party. Sunak's main job should be minimizing the anticipated defeat and giving his party the best possible base from which to recover.
But despite everything that is going wrong for the Conservatives on paper, there are reasons to be cheerful – and even to believe that they could still win the next general election. Commentators point to 1992 when John Major won a surprise election for the Conservatives that many assumed was in the bag for Labour led by Neil Kinnock – a memory that still haunts the left-of-center party.
The UK's electoral system could still favor the Conservatives to the extent that the Labour Party is denied a majority – or worse, finishes with fewer seats in parliament than the Conservatives.
The electoral system – known as first past the post – means that whichever party wins the most votes in each of the 650 parliamentary seats wins the seat outright, whatever the percentage of the popular vote. The party with the most seats conventionally forms a government. If they have an overall majority in parliament, it makes passing legislation much easier.
Effectively, this means that not all votes are equal. A seat with 50,000 voters might return a Conservative MP with a slim majority, whereas a seat of 90,000 voters might return a Labour MP with a massive majority. Both seats only count for one in parliament. This means that national polling can be misleading.
Complicating matters further, there is currently a boundary review taking place, redrawing the map of the UK and changing the makeup of a number of seats – often to the Conservatives' advantage.
"The problem Labour currently faces is that too many of its voters are concentrated in big, metropolitan areas," says Rob Ford, professor of politics at the University of Manchester.
"At the 2019 election, which saw Labour lose a lot of seats, they actually had a higher vote share than in 2010 and 2015, even though they won more seats in both of those elections," Ford adds.
Labour has also historically relied on winning seats in Scotland, a stronghold that was blown apart in 2014 with the first Scottish vote on independence. The pro-independence Scottish National Party lost the referendum, but secured 45% of the vote. That independence vote consolidated around the SNP at the general election in the following year, while the unionist vote was split, and the SNP wiped out almost all of Labour's Scottish seats.
Just a few months later, Conservative MPs were openly admitting that they believed the next election was a lost cause, and that many would lose their seats. Some were calling journalists and think tankers asking for career advice. At the annual Conservative Party conference in October, CNN spoke to one serving cabinet minister who broke down in tears when discussing the party's prospects.
By contrast, a week earlier at the Labour Party's annual conference, the mood was undeniably one of a government in waiting.
Things have changed a great deal since then and Labour candidates are now quick to say that there is work to do.
"Between this point in the election cycle and election day there is usually a move back towards the government, especially when that government is Conservative," says Chris Curtis, a pollster at Opinium Research and a Labour candidate at the next election.
"Momentum matters in politics and I'm worried about losing the wind from our sails because expectations have been set too high for this year's local elections. We need to keep working and can't be complacent," he adds.
Talk of momentum and how individual politicians feel is often dismissed as "bubble talk." However, this bubble matters. If people in Westminster are feeling more confident about their electoral prospects, it helps solidify party unity and discipline.
None of this is to say Sunak isn't facing an uphill struggle. Ford notes that "politics is volatile right now" and that the Conservative Party has got used to "panicking and pushing the eject button" on leaders.
And while some are taking comfort that the Conservatives have previously won elections they were widely expected to lose – in 1992 and 2015 – Sunak is less popular than the Conservative leaders in office in both those cases.
As the PM reflects on his first 100 days in office, he might take comfort from the fact that he was handed the wheel to a car that had a brick on the gas as it was veering off a cliff.
That car might not be back on track just yet, but the fact it's not a flaming wreckage just yet is good enough for many in his party.