Peshawar suicide bomber was Pakistani Taliban disguised as policeman, official says

Islamabad, Pakistan
CNN
 — 

The suicide bomber who targeted a mosque inside a police compound in Peshawar, killing more than 80 people, was a member of the Pakistani Taliban disguised as a policeman, a senior official said Thursday.
CCTV footage shows the suspected bomber arriving at a police checkpoint on a scooter Monday, asking a constable the direction to the mosque, and being let through since he was in uniform, said Moazzam Jah Ansari, police chief of Pakistan's Khyber Pakhtunkhwa province.
"This was a suicide bomber and we have traced his movement. He was in a police uniform," Ansari said.
"We are closing in on the network. Every life of our martyrs will be avenged," he added.
Officials had previously put the death toll at more than 100, but some of the bodies were counted twice, Ansari said. The blast also injured 217.
The development comes one day after police in Peshawar arrested several suspects.
Police believe 12 kilograms (26.5 pounds) of explosives were used by the bomber.
Video footage showed the destroyed walls of the mosque, its glass windows and paneling destroyed by the powerful explosion.
Emergency workers searched for survivors, but authorities said most of those found under the rubble were already dead.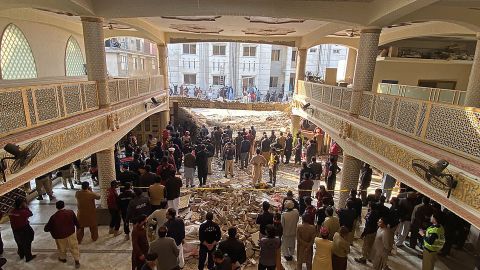 The blast Monday highlights the deteriorating security situation in Peshawar, capital of the restive Khyber-Pakhtunkhwa province that borders Afghanistan, and the site of frequent attacks by the Pakistani Taliban, known as Tehreek-e-Taliban (TTP).
The TTP has sent out conflicting messages about whether it was behind the attack.
TTP officials Sarbakaf Mohmand and Omar Mukaram Khurasani previously said the blast was "revenge" for the death of TTP militant Khalid Khorasani last year.
But the TTP's main spokesperson, Muhammad Khorasani, later denied the group was involved.
The attack comes during a rocky period for Pakistan, which is also struggling with a cost of living crisis and a faltering economy made worse by devastating floods last year.