Peru: Protester killed as anti-government violence spreads to tourist city


CNN
 — 

One protester has died and at least 19 Peruvian police officers were injured in anti-government clashes in Cusco as officials in the tourist city put health facilities on red alert.
Protesters had tried to enter the Alejandro Velasco Astete International Airport during curfew Wednesday, an Interior Minister statement said. The officers injured suffered from head trauma and bruises, it added.
A member of the Anansaya Urinsaya Ccollana de Anta indigenous community was later reported to have been killed in the city, bringing the death toll across the country to 48 since protests began in December following the ousting of leftist former President Pedro Castillo, according to the Peruvian Ombudsman report.
"We demand an immediate investigation to find those responsible for the death and proceed to the respective sanctions," the Ombudsman said in a statement, according to Reuters news agency.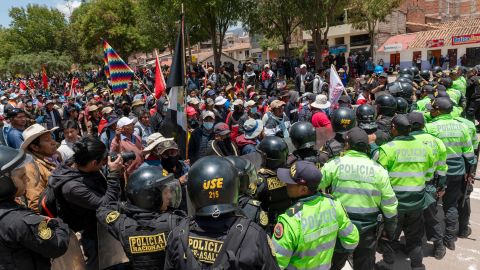 The Ministry of the Interior reported that the Regional Health Management of Cusco had placed all health establishments on red alert.
Thousands have paid tribute to the dead by parading coffins through the streets of Juliaca, a city where almost half of the deaths occurred, before burying them alongside images of the victims, Reuters reported.
Peruvians carrying black flags also marched through the streets in the region of Puno, some shouting "The bloodshed will never be forgotten!"
Peru's top prosecutor's office launched an inquiry Tuesday into new President Dina Boluarte and senior cabinet ministers over deadly clashes that have swept the country following the ousting of Castillo.
Protesters are demanding the resignation of Boluarte, the dissolution of Congress, changes to the constitution and Castillo's release.
The new government, however, won a vote of confidence in Congress by a wide margin Tuesday evening. A loss would have triggered a cabinet reshuffle and the resignation of Prime Minister Alberto Otárola.
The vote of confidence, a constitutional requirement after a new prime minister takes office, passed with 73 votes in favor, 43 against and six abstentions.
The inquiry comes after at least 18 people died since Monday night during demonstrations in the southern Puno region, including a Peruvian policeman who was burned to death by protesters.
Police confirmed to CNN Espanol Tuesday that Peruvian officer Jose Luis Soncco Quispe died on Monday night after being attacked by "unknown subjects" while patrolling in Puno.
"We regret the sensitive death of José Luis Soncco Quispe. We extend our condolences to his closest family and friends. Rest in peace, brother policeman!" Peruvian National Police wrote on Twitter.
A curfew will be in place from 8 p.m. to 4 a.m. local time "to safeguard the life, integrity and freedom of citizens" following the conflicts in Puno, the Council of Ministers tweeted Tuesday.
The recent unrest has proved to be the worst violence in Peru since the 1990s when the country saw clashes between the state and rebel group Shining Path. That violence left 69,000 people dead or missing over a period of two decades, according to Reuters.