New Zealand's Education Minister Chris Hipkins is set to replace Jacinda Ardern as PM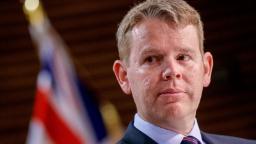 CNN
 — 

Chris Hipkins, New Zealand's education minister, is set to replace Jacinda Ardern as prime minister, after her shock resignation announcement earlier this week.
Hipkins was the only candidate to be nominated for the leadership of the ruling Labour party, the party announced in a statement on Saturday morning.
"The Labour Party caucus will meet at 1pm on Sunday to endorse the nomination and confirm Chris Hipkins as leader," Labour Party Whip Duncan Webb said in the statement.
New Zealand's next general election will be held on October 14.
Ardern said Thursday that she would stand aside for a new leader, saying she doesn't believe she has the energy to seek reelection in the October polls.
Speaking at a news conference then, Ardern said her term would end by February 7, when she expected a new Labour prime minister will be sworn in – though "depending on the process that could be earlier."
Hipkins previously oversaw New Zealand's pandemic management as Covid-19 response minister in Ardern's cabinet.
According to his official profile, Hipkins first joined the government as senior advisor to two education ministers and later in the office of then-Prime Minister Helen Clark.
He entered Parliament in 2008 and became the spokesperson for education at the beginning of 2013.