New START: Putin halts Russia's role in last nuclear reduction pact with the US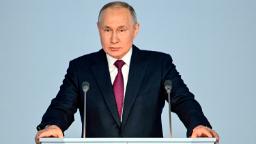 CNN
 — 

Russian President Vladimir Putin said he is suspending his country's participation in the New START nuclear arms reduction treaty with the United States, imperiling the last remaining pact that regulates the world's two largest nuclear arsenals.
Putin made the declaration in his much-delayed annual state of the nation address to Russia's National Assembly on Tuesday.
The treaty puts limits on the number of deployed intercontinental-range nuclear weapons that both the US and Russia can have. It was last extended in early 2021 for five years, meaning the two sides would soon need to begin negotiating on another arms control agreement.
Under the key nuclear arms control treaty, both the United States and Russia are permitted to conduct inspections of each other's weapons sites, though inspections had been halted since 2020 due to the Covid-19 pandemic.
While Russia is not withdrawing from the pact completely, it appears to be formalizing its current position. For months, US officials have been frustrated over Russia's lack of co-operation with the agreement.
According to US officials, Russia has continually refused to allow inspections of its nuclear facilities. "Russia is not complying with its obligation under the New START Treaty to facilitate inspection activities on its territory," a US State Department spokesperson said in January.
"Russia's refusal to facilitate inspection activities prevents the United States from exercising important rights under the treaty and threatens the viability of US-Russian nuclear arms control," the spokesperson said.
A session of the Bilateral Consultative Commission on the treaty was slated to meet in Egypt in late November but was abruptly called off. The US has blamed Russia for this postponement, with a State Department spokesperson saying the decision was made "unilaterally" by Russia.
The latest development announced by Putin "puts (the) treaty on life support," Hans Kristensen, the Director of the Nuclear Information Project, wrote on Twitter, questioning whether Russia will now stop exchanging data with US counterparts.
Putin's nuclear saber rattling during the war has alarmed the US and its allies, though officials have repeatedly dismissed the moves as empty threats.
In December, Putin warned of the "increasing" threat of nuclear war, and this month, Dmitry Medvedev, deputy head of Russia's Security Council, threatened that Russia losing the war could "provoke the outbreak of a nuclear war."
"Nuclear powers do not lose major conflicts on which their fate depends," Medvedev wrote in a Telegram post. "This should be obvious to anyone. Even to a Western politician who has retained at least some trace of intelligence."
And though a US intelligence assessment in November suggested that Russian military officials discussed under what circumstances Russia would use a tactical nuclear weapon in Ukraine, the US has not seen any evidence that Putin has decided to take the drastic step of using one, officials told CNN.