Netanyahu's strategy: Don't get 'hung up' on peace with Palestinians first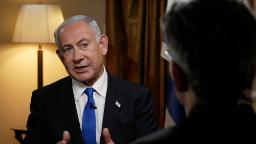 CNN
 — 

Israel's Prime Minister Benjamin Netanyahu said people can get "hung up" on peace negotiations with the Palestinians, saying he has opted for a different approach in an interview with CNN's Jake Tapper on Tuesday.
"When effectively the Arab-Israeli conflict (comes) to an end, I think we'll circle back to the Palestinians and get a workable peace with the Palestinians," he said.
Asked by Tapper about the Biden administration's concerns that settlements in the occupied West Bank could exacerbate tensions, Netanyahu pointed to the success of the Trump-era Abraham Accords that normalized relations between Israel and several Arab countries.
"I went around them (Palestinians), I went directly to the Arab states and forged with a new concept of peace… I forged four historic peace agreements, the Abraham Accords, which is twice the number of peace agreements that all my predecessors in 70 years got combined."
His comments come at a tense moment for Israel. Palestinians and Israelis have suffered terrible bloodshed in the past week, and fears are growing that the situation will spiral out of control. Last Thursday was the deadliest day for Palestinians in the occupied West Bank in nearly two years, followed by a shooting near a Jerusalem synagogue Friday night – which Israel has deemed one of its worst terror attacks in recent years.
The Biden administration has advocated for a two-state solution to the Israeli-Palestinian conflict, but there has been very little movement and seemingly few active efforts toward that goal by Netanyahu or Palestinian leaders.
Analysts say the Abraham Accords have also done little to moderate Israel's position on the Palestinians. When asked what concession Israel would grant Palestinian territories, Netanyahu responded: "Well, I'm certainly willing to have them have all the powers that they need to govern themselves. But none of the powers that could threaten (us) and this means that Israel should have the overriding security responsibility."
His comments come more than a month after Netanyahu's dramatic comeback as Israeli prime minister late last year. But his government – which has been described as the most right-wing in the country's history – has already faced internal tensions and widespread public protests.
Netanyahu's governing coalition relies on the support of a number of nationalist political figures once consigned to the fringes of Israeli politics.
He was forced to dismiss key ally Aryeh Deri from his ministerial posts after the High Court ruled that it was unreasonable to appoint the Shas party leader to positions in government due to his criminal convictions.
Ongoing demonstrations against Netanyahu's government and its planned judicial reforms have drawn tens of thousands of Israelis to the country's streets in January.
Netanyahu met with US Secretary of State Antony Blinken on Monday during a planned visit that came amid spiraling tensions in the occupied West Bank and Jerusalem.
The Israeli prime minister emphasized in a joint appearance with Blinken on Monday that Israel was a "strong democracy," that Iran must not acquire nuclear weapons, and that broader regional accords would help lead to Israeli-Palestinian peace.
He made a point of repeating that Israel and the United States were "two strong democracies," an apparent reference to concerns that his government plans to weaken the powers of Israel's independent judiciary.
Netanyahu meanwhile continues to face charges on three separate cases in a long-running corruption trial that has dogged him politically. He has repeatedly denied all the charges against him, and has described the trial as a "witch hunt."
The trial began in May 2020 but has been beset with delays.