NATO secretary general urges South Korea to allow direct arms exports to Ukraine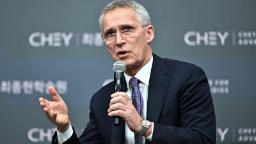 Seoul, South Korea
CNN
 — 

NATO Secretary General Jens Stoltenberg on Monday asked South Korea to reconsider its rule on not exporting weapons to countries in conflict so it could help arm Ukraine in repelling Russia's invasion.
"I urge the Republic of Korea to continue and to step up the specific issue of military support," he said in a question and answer session after a speech to the Chey Institute for Advanced Studies in Seoul.
"Several NATO allies who had as a policy never to export weapons to countries in conflict have changed that policy now," Stoltenberg said, citing Germany, Norway and NATO applicant Sweden as those which have changed their arms export policies to help Ukraine.
"After the brutal invasion of Ukraine, these countries changed their policy because they realized that when you are facing a brutal invasion where a big power – Russia – invades another one in a blatant way as we have seen in Ukraine, if we believe in freedom, if we believe in democracy, if we don't want autocracy and tyranny to win, then they need weapons.
"When the full-fledged invasion happened last year, many countries changed their policy because they realized that the only way to stand up for democracy, to help Ukraine prevail, and to create the conditions for a lasting peace was to deliver military support."
Military aid for Ukraine received a big boost last week when Germany said it would send 14 of its Leopard 2 tanks to Kyiv, while also permitting other countries that possess the Leopards, including Norway, to supply them.
The Leopard 2 is a next generation tank that is both agile and quick, despite being equipped with advanced protective armor and long-range firepower. It is considered among the best in the world and superior to anything Russia has deployed in Ukraine.
In addition to the Leopards, Ukraine is set to receive heavy armor from both the United States, which is sending 31 M1 Abrams tanks, and the United Kingdom, which has pledged 14 Challenger tanks.
Some experts say the South Korean K2 Panther is also in that group of top tanks and could be useful for Ukraine.
But a South Korean presidential decree that enforces the country's Foreign Trade Act says its exports can only be used for "peaceful purposes" and "shall not affect international peace, safety maintenance, and national security."
South Korea is also a signatory to the United Nations' Arms Trade Treaty, ratified in 2014 with the intention of keeping close control on who gets weapons and under what conditions they can be used.
But that doesn't mean South Korea's arms industry isn't seeing a role in Ukraine's war with Russia.
In December, a US defense official told CNN that Washington intends to buy 100,000 rounds of artillery ammunition from South Korean arms manufacturers to provide to Ukraine.
The rounds will be transferred to Ukraine via the US, allowing Seoul to stick to its public pledge that it would not send lethal aid to the war-torn country.
And one of the biggest military supporters of Ukraine – Poland – signed a major weapons deal with South Korea last year for hundreds of tanks and howizters and dozens of fighter jets.
The deal will enable Poland to replace many of the weapons that Warsaw has sent to Kyiv.
Stoltenberg said Monday that it is imperative that democracies must stand with Ukraine for as long as it takes for Kyiv to win the war.
"Because if if [Russian] President [Vladimir] Putin wins, the message to him and other authoritarian leaders will be that they can get what they want with the use of force," he said. "This would make the world more dangerous and us more vulnerable."