Myanmar junta dissolves Suu Kyi's party as election deadline passes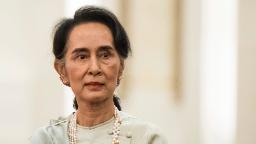 Myanmar's military government has dissolved the ousted ruling party of former leader Aung San Suu Kyi and 39 other parties, state media announced on Tuesday, over their failure to register for an election set to prolong the army's grip on power.
The National League for Democracy (NLD) is among dozens of parliamentary parties that were severely weakened by the military's 2021 coup against Suu Kyi's elected government and its crackdown on protests against its rule.
The polls, for which no date has been announced, will come amid a deepening crisis in Myanmar, where the military is fighting on multiple fronts to crush ethnic minority armies and a resistance movement formed to counter its lethal suppression of anti-coup dissent.
In a live broadcast late on Tuesday, state-run Myawaddy TV said 63 parties had registered at local or national level and named 40 parties that were automatically disbanded for failure to sign up by Tuesday's deadline.
The election is almost certain to be swept by the Union Solidarity and Development Party (USDP), a military proxy that was trounced by the NLD in the 2015 election and in a 2020 vote that the generals eventually voided, citing unaddressed irregularities.
The hugely popular Nobel laureate Suu Kyi, 77, is among scores of NLD members jailed since the coup and is serving 33 years for multiple counts of corruption, a breach of a state secrets law and incitement, among other crimes.
Tun Myint, a senior NLD official, said the party would never have registered for the polls with many of its members in jail or "involved in the revolution."
"It doesn't matter whether they say our party is dissolved or not. We are standing with the support of people," Tun Myint told Reuters.
The shadow National Unity Government (NUG), which the junta has declared "terrorists," said the military had no authority to hold what would be a sham election.
"The political parties who respect the wishes of the people did not register," said its spokesperson Kyaw Zaw.
Junta chief Min Aung Hlaing on Monday urged international critics to get behind his efforts to restore democracy.
The election would return Myanmar to the quasi-civilian democratic system that experts say the military can control with the NLD out of the picture.
Under the power-sharing arrangement outlined in the constitution, the military is guaranteed three ministerial portfolios, a quarter of all legislative seats and a say in who gets nominated to become president.
Richard Horsey, senior adviser to the International Crisis Group, said the election was dangerous for the country.
"The majority of the population fiercely oppose going to the polls to legitimize the military's political control, so we will see violence ratchet up if the regime seeks to impose a vote, and resistance groups seek to disrupt them," said Horsey, who was based in Myanmar for 15 years.