Lovie Smith: Houston Texans fire head coach after one season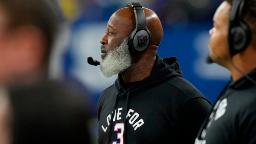 CNN
 — 

The Houston Texans have fired head coach Lovie Smith after just one season in charge, the team announced on Sunday.
The Texans finished the year with a 3-13-1 record.
"On behalf of the entire organization, I would like to thank Lovie Smith for everything he has contributed to our team over the last two seasons as a coach and a leader," Texans general manager Nick Caserio said in a statement.
"I'm constantly evaluating our football operation and believe this is the best decision for us at this time. It is my responsibility to build a comprehensive and competitive program that can sustain success over a long period of time."
Smith is the second coach to last just one season with the Texans. The team fired David Culley after a 3-14 season last year and then went on to hire Smith.
"We are grateful for his leadership and character, and we wish him the best moving forward," team chairman and CEO Cal McNair said. "While we understand the results have not been what we had hoped for, we are committed to building a program that produces long-term, sustainable success. Our fans and city deserve a team that they can be proud of."
The best photos from the 2022 NFL season
The firing comes after Houston defeated the Indianapolis Colts 32-31 earlier on Sunday, costing the team the chance to get the first overall pick in the 2023 NFL Draft. The Chicago Bears clinched the top pick after finishing with a 3-14 record.