Live updates: Russia's war in Ukraine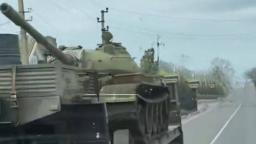 A Russian Foreign Ministry spokesperson blamed Ukraine, the United States and the United Kingdom for the bombing of military blogger Zakhar Prilepin's car in the city of Nizhny Novgorod on Saturday.
The ministry provided no proof for its allegations.
Russian pro-Kremlin newspaper Izvestia reported that Prilepin had surgery on Saturday and is at the hospital in stable condition. His driver was killed in the blast.
The Security Service of Ukraine, responding to online outlet Ukrainian Pravda, said of the incident: "Officially, we can neither confirm nor deny the involvement of the Security Service in this or that explosion that happens to the occupiers and their accomplices."
Russia blamed Ukraine for the death of another Russian military blogger in an attack last month at a St. Petersburg cafe. Kyiv denied any involvement.
The Russian Investigative Committee called the latest incident "a terrorist act" and said it plans to investigate the blast as such.  
The committee also reported a suspect in the car bombing has been detained, claiming that during interrogation, he testified "that he acted on the instructions of the Ukrainian special services." 
The suspect "planted an explosive device on the road along the route of Zakhar Prilepin's car, which he set off remotely," the committee alleged. "After that, he fled the scene, but was detained by law enforcement officers when he left the forest in another settlement."  
The committee published what it claimed was a video confession of the suspect, but it was not clear under what circumstances he was interviewed and whether he was under duress in the video. 
The UK's foreign office declined to comment when contacted by CNN. The Pentagon did not immediately respond to a request for comment.