Live updates: Russia's war in Ukraine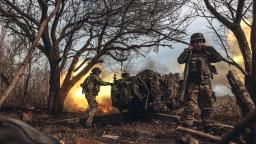 Ukraine has received the first tranche of $2.7 billion from a new International Monetary Fund (IMF) program, Ukrainian Finance Minister Sergii Marchenko said in a tweet Monday.  
The IMF, which regularly makes emergency loans to countries in crisis, on Friday approved a new four-year extended arrangement under the Extended Fund Facility (EFF) of around $15.6 billion as part of a $115 billion total support package for Ukraine.  
The program aims to "anchor policies that sustain fiscal, external, price and financial stability and support economic recovery, while enhancing governance and strengthening institutions to promote long-term growth in the context of post-war reconstruction and Ukraine's path to EU accession," the IMF said in a statement. 
The program also helps Ukraine to carry out "more ambitious structural reforms," it said.
The Extended Fund Facility (EFF) loan is the first major conventional financing program approved by the IMF for a country involved in a large-scale war, Reuters reported.
The risks to the arrangement are "exceptionally high," said Gita Gopinath, first deputy managing director of the global lender.  
"The success of the program depends on the size, composition, and timing of external financing on concessional terms to help close fiscal and external financing gaps and restore debt sustainability on a forward-looking basis under the baseline and downside scenarios," she added.