Live updates: Russia's war in Ukraine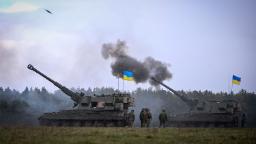 A well-known Russian military blogger, Vladlen Tatarsky, was killed in an explosion at a cafe in St. Petersburg on Sunday, authorities said.
There are several prominent bloggers like Tatarsky who cover Russia's war in Ukraine for followers on online platforms like Telegram. Some have amassed followings of hundreds of thousands of people.
While Tatarsky was ardently pro-war, he also issued criticism of setbacks in Moscow's campaign — a fairly rare phenomenon in the Russian public sphere.
Background and combat experience: Tatarsky's real name was Maxim Fomin.
In 2014, he fought with Russian separatists against Ukrainian nationalists in the Donbas region of eastern Ukraine, according to Russian state news agency Vesti, citing public sources.
Tatarsky created his Telegram channel in 2019, naming it in honor of the protagonist of Victor Pelevin's novel "Generation 'P,'" according to Vesti. He went on to write several books.
Tatarsky supported the war in Ukraine. He gained popularity online by providing analysis and commentary during Russia's invasion.
Rare criticism: Tatarsky had more than half a million followers on Telegram, and while he was aggressively pro-war, he was sometimes critical of Russian setbacks in Ukraine.
Public criticism of Moscow's war is uncommon in Russia.
In May last year, he told CNN that he was not criticizing the overall operation, rather "individual episodes," and that he still believed Russia would achieve its goals in Ukraine.
Nevertheless, he called for broad change in response to the halting progress of Moscow's invasion.
"All the areas need to be improved," he said. "Each war reveals some drawbacks, shortcomings, or false experiences, experiences that need to be adjusted to the modern realities. So absolutely all spheres need reform."
Tatarsky gained prominence after attending a Kremlin ceremony that marked the annexation of four Ukrainian regions (a move dismissed as illegal under international law by Ukraine and Western allies).