Live updates: Russia's war in Ukraine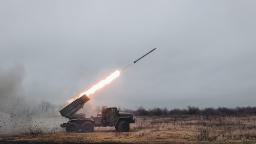 Ukrainian President Volodymyr Zelensky met with Chair of the United States Senate Committee on Armed Services Jack Reed and a member of this Committee, Sen. Angus King, in Kyiv on Friday.
During the meeting, Zelensky said he views the Russian proposal of a 36-hour "ceasefire" as a "manipulation by which the aggressor tries to hide its true military plans and intentions."
Following the meeting in a briefing to journalists, Reed said he told Zelensky his and his country's sacrifice has inspired the world and "that they are fighting the fight for all of us."
He said President Joe Biden's announcement of additional military support, such as the Bradley Fighting Vehicles, will give Ukrainian forces "the ability to break through front lines, exploit that breakthrough and go on – we hope to – eject the Russians from Ukrainian territory."
Asked by CNN's Scott McLean if sending Bradley Fighting Vehicles will open the door to the US sending M-1 Abrams tanks, Reed said there is no connection.
He said he is always concerned about US stockpiles of weapons and equipment and that goes into the Pentagon decisions on what to send, in response to a question from CNN.
King said they had an "extraordinary day" in Kyiv, as he remarked on the "courage, commitment… and grit" of the Ukrainian people.
He said they were visiting because "this is a fight for us, for all the world, for the values of freedom and democracy – and that is why this commitment is necessary."
"History says dictators tend to push on open doors and if they find open doors, they will continue. If anybody wonders why this struggle is necessary, all they need to do is look back to 1938 and the Sudetenland, 1936 and the Rhineland when World War II could have been prevented by the kind of resistance that is happening right here today," King added. 
Asked what else the United States will send Ukraine to end the war this year, King said America will continue to support Ukraine and after meeting with officials in Kyiv they had "walked out with a list."
Reed said he had been "inspired" to "expedite the assistance that Ukraine needs to finish this fight."
He said the US had made a huge commitment and to expect a further announcement soon. King said training on the Patriot defense missile system being sent to Ukraine "will begin shortly" but the length of training is classified.