Live updates: Russia's war in Ukraine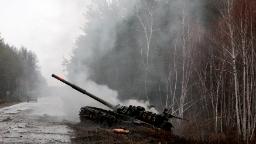 Ukraine's military on Tuesday alleged another devastating attack on Russian troops had taken place.
The General Staff of the Armed Forces of Ukraine said around 500 Russian troops were either killed or wounded in a hit near Chulakivka, a town in Ukraine's southern Kherson region, on New Year's Eve.
"The enemy continues to suffer losses. It was confirmed that on Dec. 31 Ukrainian Defense Forces hit an enemy troop and equipment stronghold near Chulakivka, Kherson region," the General Staff said. "Around 500 enemy troops were wounded and killed."
Natalia Humeniuk, a spokesperson for the Ukrainian armed forces in the south, told Ukrainian television: "This is one of our achievements in this direction of the front." 
"There will be more because we identify the enemy's locations," she said of the alleged hit.
CNN cannot verify the Ukrainian claim. Moscow has not publicly commented on the Chulakivka claim. 
However, a widely read Russian war blogger known as "Operation Z" said in a Telegram post on Tuesday "there is no f***ing denying" that Ukraine is now targeting barracks and other Russian troop strongholds with HIMARS, a reference to High Mobility Artillery Rocket Systems. He included Chulakivka in his list of hits on Russian troops he said had taken place in December.
It comes after both Russian and Ukrainian authorities acknowledged a strike that took place just after midnight on New Year's Day at a vocational school housing Russian conscripts in Makiivka, in the Donetsk region.
The Russian Defense Ministry says 89 servicemen were killed in the New Year's Day strike, which would make it one of the deadliest single episodes of the war for Moscow's forces.