Live updates: Russia's war in Ukraine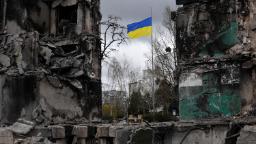 As fighting near the key Ukrainian city of Kreminna in the eastern Luhansk region continues, Russian civilians who had come to the city have stopped their work and left, Serhiy Hayday, head of the Luhansk region military administration, said Wednesday in a television interview. 
"The military command has indeed moved [from Kreminna] to other settlements. All the Russians who came to work, the civilians — doctors, repair teams — they have all stopped their work, all left for the Russian Federation, and all the work that was started is now frozen," Hayday said. 
Why Kreminna matters: If the Ukrainian military is able to dislodge the Russians from Kreminna, it could then proceed in two directions, Hayday said. 
"There are two prospects. The first is to go to Starobilsk, which is the logistics center of Luhansk region. Whoever controls Starobilsk will be able to control the entire logistics of the Luhansk region with firepower. In other words, there will be almost no roads left along which the enemy could quietly move either personnel or equipment," Hayday said. 
"The second direction is towards Rubizhne and Severodonetsk. This is in order to break the grouping, which is now constantly, round the clock, advancing towards Bakhmut. It could be split in two and, accordingly, make the defense for the military who are defending Bakhmut easier." 
Some background: Kreminna has been occupied since the spring and lies on a key north-south road from Svatove, which Russian troops had been using for resupplies. Losing Kreminna would limit Russia's ability to resupply its troops in the key city of Severodonetsk.