King Charles III Coronation: Church of England changes wording of public declaration, following backlash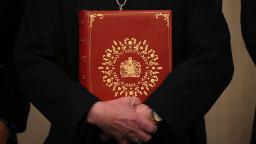 CNN
 — 

The Church of England has changed the wording of its invitation to the public to pledge allegiance to King Charles during his coronation, following a public backlash.
The Archbishop of Canterbury will now give people the option of saying just "God save King Charles" rather than making the full pledge of allegiance.
The move follows widespread criticism of the proposed pledge. In a recent online poll for ITV's Good Morning Britain, 86.5% of more than 164,000 respondents said they would not recite the pledge, while a prominent friend of the king had described the earlier wording as "ill-advised."
According to a revised text of the liturgy for the coronation service, published Saturday by Lambeth Palace, the Archbishop of Canterbury will say:
"I now invite those who wish to offer their support to do so, with a moment of private reflection, by joining in saying 'God save King Charles' at the end, or, for those with the words before them, to recite them in full."
The full pledge reads: "I swear that I will pay true allegiance to Your Majesty, and to your heirs and successors according to law. So help me God."
In a previous version of the text, published in April, the archbishop was to "call upon all persons of goodwill in the United Kingdom of Great Britain and Northern Ireland, and of the other realms and the territories to make their homage, in heart and voice, to their undoubted king, defender of all."
The earlier version had been described as "ill-advised" by a prominent friend of the King.
Sign up for CNN's Royal News, a weekly dispatch bringing you the inside track on the royal family, what they are up to in public and what's happening behind palace walls.