Kenya opposition leader tear-gassed by police, calls for weekly protest

Nairobi, Kenya
CNN
 — 

Kenyan opposition leader and former prime minister Raila Odinga has called for weekly nationwide protests against the high cost of living, in a brief address to demonstrators flanking his motorcade in Nairobi Monday.
Moments before, police fired tear gas and water cannons at his car as they blocked his supporters from entering Serena Hotel in Nairobi, where he was due to give a news conference, his senior adviser Makau Mutua told CNN. 
Police then blocked his car from accessing the Central Business District, where protesters have clashed with police since morning, forcing the leader to relocate to another area of Nairobi.
"We shall use all available, peaceful, and constitutional means to vindicate our rights," Odinga said from the sunroof of his car.
Afterward, Odinga drove around Nairobi alongside protesters following his motorcade, which has been repeatedly tear-gassed.
Hundreds of people across the country have taken to the streets to protest against the high cost of daily life.
Police arrested protesters, including senior opposition politicians, as demonstrations escalated by mid-day local time Monday.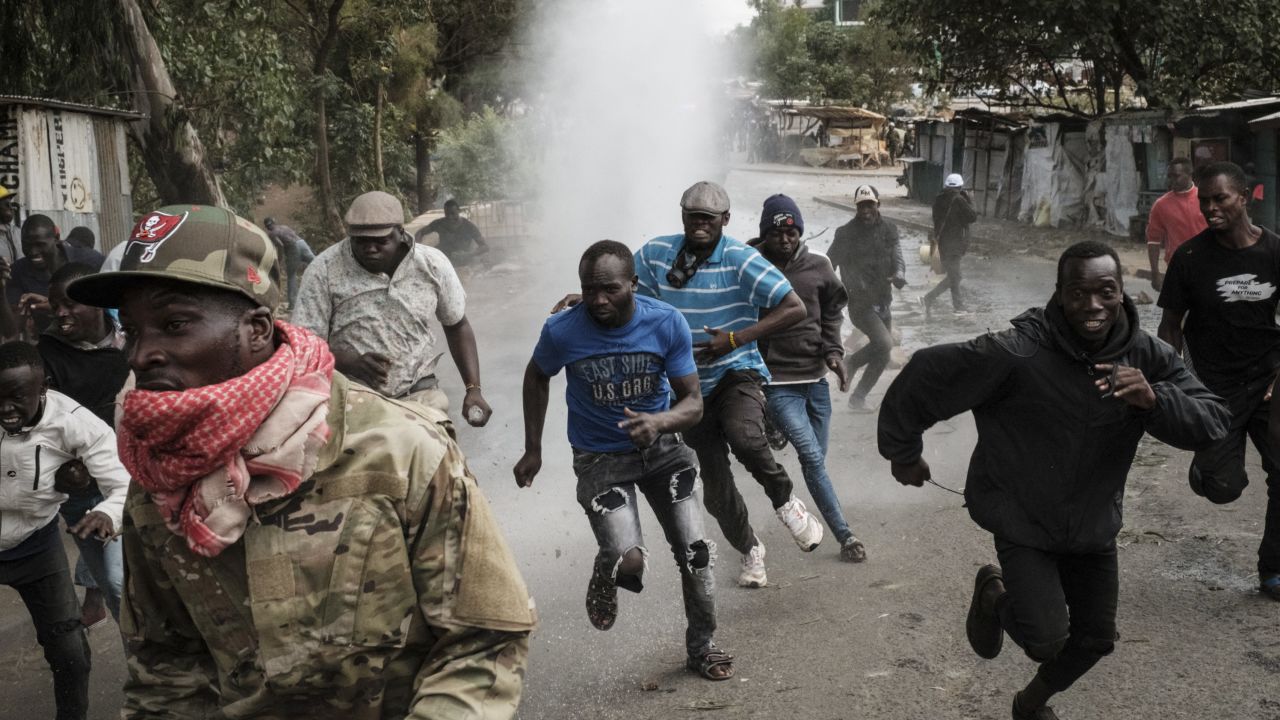 Odinga, who lost the presidential election for a fifth time in August, called for nationwide protests to demonstrate against what he claims, without evidence, is an illegitimate government that stole the election. 
Kilifi county senator Stewart Madzayo and Ugunja sub-county lawmaker Opiyo Wandayi were among those arrested and held in Nairobi, according to Odinga's senior adviser Mutua. Six other officials were also arrested in the capital, he confirmed to CNN, adding the party was still trying to assess the number of arrests. 
Members of Odinga's party accused police of disrupting what they said were peaceful protests and demanded authorities immediately release the arrested politicians.
Police clashed with protesters in Nairobi's city center, with businesses in the city center shuttered for the day, and in Nairobi's Kibera slum, where Odinga has substantial support. Clashes were reported in the city of Kisumu, in western Kenya, which is considered a stronghold for Odinga. 
High inflation and soaring food prices in the country has led to a cost-of-living crisis for many in Kenya. "We will sustain the protests [beyond Monday] until we get what we deserve," Mutua said. 
A spokesperson for the Kenyan police could not be immediately reached.