Is Prince Andrew planning to revisit his US sex abuse case?
Editor's Note: A version of this story appeared in the January 27 edition of CNN's Royal News, a weekly dispatch bringing you the inside track on Britain's royal family. Sign up here.

London
CNN
 — 

You might get a sense of deja vu with this edition of Royal News. Long-time readers will probably recall the scandal that engulfed Britain's royal family this time last year as Prince Andrew faced legal action in the United States over alleged historical sexual abuse.
The civil case was brought in August 2021 by Virginia Giuffre, who claimed she had been trafficked by convicted pedophile Jeffrey Epstein and coerced into performing sexual acts for his friends, including the British royal, on multiple occasions while still a teenager.
Andrew, who is also known as the Duke of York, has continually denied the allegations against him. But dramatic court proceedings led to six months of sordid and embarrassing details and disclosures. A courtroom showdown was ultimately avoided last February, when both parties abruptly reached an out-of-court settlement, and the case was dismissed. That was the end of that … or so we thought.
This week, reports emerged in multiple British tabloids suggesting the duke is preparing to challenge the settlement. According to reports in The Sun and Mail on Sunday newspapers, the prince's desire to explore his legal options stems from the collapse of another case brought by his accuser.
In November, Giuffre dropped separate sexual abuse allegations she made against US attorney Alan Dershowitz, who had long denied any wrongdoing, admitting she "may have made a mistake" in accusing him.
A source quoted by the Mail on Sunday said the prince only ever settled reluctantly, that the money was not important to him, and that he wanted to seek a way back to normal royal life
The prince's lawyers have not responded to our requests for comment. Meanwhile, CNN understands the prince and his spokesperson have parted ways and he is looking for a new one.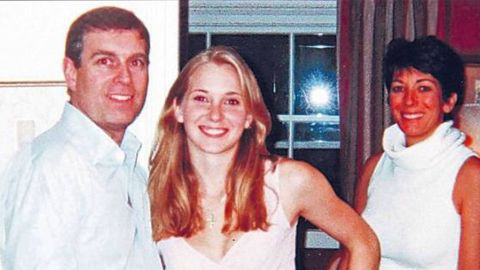 Amid the speculation, Epstein's former girlfriend, Ghislaine Maxwell, defended the duke in a series of interviews from a US federal prison, where she is currently serving a 20-year sentence for sex-trafficking and other related counts of conspiracy. Speaking to UK broadcaster TalkTV, the disgraced British socialite claimed the infamous decades-old photograph of Andrew with a 17-year-old Giuffre was "fake," before questioning Giuffre's integrity, saying her "stories have changed so many times."
Neither Giuffre nor her lawyers have commented on Maxwell's interview but one of her attorneys, Sigrid McCawley, previously told CNN that they launched the civil case to illustrate that "irrespective of power, privilege or even being a prince, no one is above the law in the United States and all perpetrators of abuse should be held accountable."
For those wondering why in the world the 62-year-old prince might want to revisit his legal woes, it's worth remembering that Andrew has repeatedly proclaimed his innocence. He had pledged to fight Giuffre's accusations but struck a settlement without accepting any blame. Many believe the move was to ensure the case didn't overshadow his mother's historic Platinum Jubilee celebrations last summer.
Regardless, when all was said and done, the duke's transformation into royal pariah was complete. Andrew has never been charged with any criminal offense, but the fallout of his lengthy association with Epstein and the civil case have left his reputation in tatters, while his military titles and patronages were stripped away. These days he's rarely seen in public, and the only royal events he attends are family occasions like the funerals of his mother and father.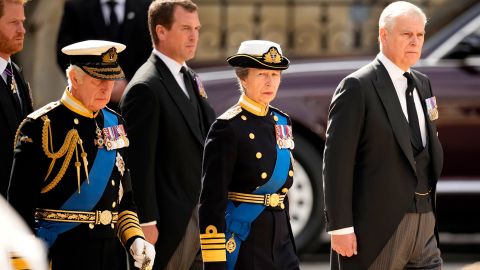 US legal experts tell CNN that if the prince does end up pursuing fresh legal action, it will probably be a protracted process and will trigger further negative media coverage of the beleaguered royal and the rest of the clan.
Chaya Weinberg-Brodt, special counsel in the litigation and arbitration team of international law firm Withers, explains that "a settlement agreement is enforceable as a contract – any party seeking to set it aside will have to provide proper grounds to invalidate that contract."
His legal team "would have to advance evidence that he was coerced into entering the agreement, that there was fraud, collusion, or deception inducing the settlement, that there was a mistake of fact or law, that the agreement was unconscionable, or that Prince Andrew lacked capacity to enter the agreement," she says, before adding: "None appears even remotely possible on the facts currently known."
Amber Melville-Brown, global head of Withers' media and reputation team, believes Andrew's "name is mud" and that the duke "would do better to continue to keep his head down."
She adds that any action taken by the prince could have reputational repercussions on his elder brother in the eyes of the public.
"King Charles's reputation may be sunk before his coronation over any public support shown by him of his brother's doomed bid to overturn the Giuffre settlement," she explains. "Andrew's reputation was torpedoed by his relationship with Epstein, he failed to bail it out with his ill-judged interview with Newsnight, and it sank, likely never to be raised on settlement of the claim. Blood may be thicker than water, but King Charles will not want his reputation to go down with that ship."
We're only a few months away from King Charles III's coronation, and now we finally have a few more details about what's being planned to mark the new monarch's accession to the throne. There will be three days of extravagant celebration across the country, with numerous opportunities for the public to get involved, according to Buckingham Palace.
The coronation itself will take place on the morning of Saturday, May 6 (which we already knew) but we have also learned that the following day's events will be a "Coronation Big Lunch" (think fabulous street parties) and a special "Coronation Concert." Musical offerings have become a staple of major royal moments but the twist on this occasion is that it will be held at Windsor, rather than in front of the gates of Buckingham Palace. To round things out, Britons have already been given Monday off as an extra bank holiday and members of the public are being invited to join "The Big Help Out" by volunteering in their communities.
"Everyone is invited to join in, on any day," Michelle Donelan, UK culture secretary, said in a statement. "Whether that is by hosting a special street party, watching the Coronation ceremony or spectacular concert on TV, or stepping forward during The Big Help Out to help causes that matter to them."
Get the lowdown on arrangements for the King's coronation here.
Crown Estate sues Twitter.
The Crown Estate, a British commercial property portfolio historically belonging to the monarch, began court proceedings against the tech giant over alleged non-payment of rent in its London offices, a spokesperson of the property business told CNN on Monday. You'll recall from last week's newsletter that the Crown Estate is run by an independent board. It boasts a collection of commercial buildings and land, generating profits that are surrendered to the British government for public spending in exchange for a 25% cut, which is known as the Sovereign Grant. CNN has reached out to Twitter for comment. Read more here.
Princess Eugenie reveals she's expecting baby no. 2!
King Charles III's niece is pregnant with her second child, Buckingham Palace announced Tuesday. In a statement, the palace said the family is "delighted" to be growing this summer and that Eugenie's son, August, "is very much looking forward to being a big brother." Eugenie – who is 11th in line to the British throne – is the daughter of Prince Andrew and his ex-wife, Sarah Ferguson. Find out more here.
The Prince of Wales was in Windsor on Thursday to meet and congratulate the 2022 finalists of his Earthshot Prize in person for the very first time.
First awarded in 2021, the Earthshot Prize champions environmental initiatives around the world. Winners receive a £1 million grant (about $1.12 million) to fund their work, with projects split across five categories: "Protect and restore our nature," "clean our air," "revive our oceans," "build a waste free world" and "fix our climate." The 2022 cohort was announced at a star-studded ceremony in Boston in November.
This week marked Earthshot's inaugural fellowship retreat, which was held at Cumberland Lodge in the grounds of Windsor Great Park. The week-long retreat allowed the 15 winners and finalists to meet face-to-face while receiving advice and support from a range of partners and collaborators who can "help them scale their impact immediately and over the coming decade," according to organizers.
Over the course of the week, speakers have included former UN climate chief Christiana Figueres (who is also chair of the Earthshot Prize) and environmental activist, geographer and Earthshot Prize council member Hindou Oumarou Ibrahim. The cohort also attended a forum hosted by Deloitte in London, where they were connected with advisers, market access partners and potential funders.
Joining on the second to last day, the 40-year-old royal met with each finalist individually, often praising their initiatives and asking what more could be done to support their work.
Talal Hasan's 44.01 is the 2022 winner in the "fix our climate" category. He started his Oman-based company with a childhood friend and has developed a technique to remove carbon dioxide from the atmosphere through a process called mineralisation and turn it into rock, so that it can be permanently stored underground. The company name of 44.01 is the molecular weight of CO2. The start-up's goal is to turn 1 billion tons of CO2 into rock by 2040.
Speaking to CNN at the retreat, Hasan said Earthshot's support has "been crucial to help us scale what we are doing."
"We have now demonstrated our technology in the field and we now want to scale it further. And the Earthshot prize has given us that platform to enable us to do that," Hasan said.
"This week has been phenomenal," he added when asked about the retreat. "Meeting the other finalists, learning from them. But also, being with people that are going through the same challenges."
Daniel Leal/WPA Pool/Getty Images
Catherine, Princess of Wales meets with the Early Years Advisory Group at Windsor Castle on Wednesday. The group has been created to offer strategic advice to the Princess of Wales and provide oversight of the work of her Royal Foundation Centre for Early Childhood.
Prince Edward presented The Production Guild of Great Britain's inaugural "Earl of Wessex" Award to the non-profit 6ft From The Spotlight this week in recognition of its work to advance mental health and wellbeing practices in UK film and television production.
The 58-year-old is the guild's royal patron. Before he became a full-time royal supporting the monarch, Edward worked in theater and television production. The film and TV industry award was created in his name last year to recognize those who are creating "a successful way of inspiring local talent or skills, widening access or being more inclusive."