Iran pardons or commutes sentence of 'large' number of prisoners, state media reports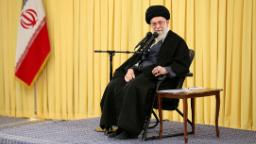 CNN
 — 

Iran will pardon or commute the sentences of a large number of prisoners as part of an annual amnesty, state media reported Sunday, although it is unclear how this will apply to people arrested in the recent wave of protests.
Supreme Leader Ayatollah Ali Khamenei has approved a proposal to "pardon or commute" the sentences of thousands of prisoners, state media reports, but with notable exceptions that will likely exclude many imprisoned protesters.
According to semi-official Tasnim, the amnesty does not apply to those sentenced or facing charges of "espionage for outsiders, direct links with the foreign intelligence services, murder or intentional injuries, as well as vandalism or arson attack on governmental, military and public sites" – all charges regularly levied against protesters and foreign nationals imprisoned in Iran.
Referring to protesters, Chief Justice Gholam​-Hossein Mohseni​-Ejei said "a number of convicts jailed following the recent riots in Iran had been deceived into wrongdoing under the influence of the enemy's propaganda campaign" and have "asked for forgiveness," Tasnim reported.
At least one Iranian human rights organization dismissed the move as "propaganda."
"The #HypocriticalPardoning of protesters by Khamenei is an act of propaganda. They used their self-right to protest and their arrests and sentences are not justified. Not only should all protesters be released, but in the path of justice, the trials of the perpetrators and agents of repression is also a universal right," Iran Human Rights said on Twitter.
Semi-official news agency Mehr claimed "tens of thousands" of prisoners could be pardoned or have their sentences commuted but provided no details.
Khamenei made the announcement ahead of the 44th anniversary of the "victory of the Islamic Revolution" marked on February 11. It is customary for Khamenei to grant amnesty to some prisoners to make this occasion.
Anti-government protests, sparked by the death of Mahsa Amini, a young Kurdish-Iranian woman in September 2022, have resulted in tens of thousands of people being arrested through the country.
Last month, Iran executed two protesters charged with killing security personnel, causing an international outcry. Critics said the executions were a result of hasty sham trials. At least 43 people are currently facing execution in Iran, according to a CNN count, but activist group 1500Tasvir says the number could be as high as 100.