How a fight over snow crabs could open up access to Arctic oil


CNN
 — 

A legal fight in Norway over snow crabs could end up having big implications for access to oil in the Arctic.
This week Norway's Supreme Court is hearing a case about whether Latvian trawlers are able to catch snow crab – a cold water species whose leg meat is popular in countries including the United States and Japan – in a wide swath of water around Svalbard.
Svalbard is an archipelago located deep inside the Arctic Circle, roughly halfway between Norway and the North Pole, and home to the world's most northerly permanently inhabited community.
Under the Svalbard Treaty of 1920 – signed by countries including the US, Japan and many European Union countries – Norway has sovereignty over the islands but other signatories have equal rights to the resources in Svalbard's territorial waters including fish, oil and gas.
The question at the heart of this case is how far out into the ocean these rights extend. If the treaty is found to extend to the continental shelf, then signatories would have equal rights to its resources.
"The ramifications are considerable: snow crab today and oil and gas tomorrow," Klaus Dodds, professor of geopolitics at Royal Holloway, University of London, told CNN.
The Arctic may hold 13% of the world's undiscovered conventional oil resources and 30% of its undiscovered gas resources, according to the US Geological Survey.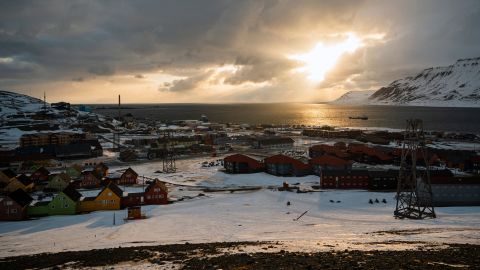 In the case before the Supreme Court, the Latvian company claims it is entitled to catch snow crab in an extended area of ocean around Svalbard under an EU license but without permission from Norway.
"They argue that since Norwegian fishermen got a license, they are entitled to a license too," Øystein Jensen, a research professor at the Fridtjof Nansen Institute, a Norwegian research foundation, told CNN.
Norway, on the other hand, maintains that the treaty provisions for equal rights don't apply beyond 12 nautical miles of the archipelago. "There is no legal basis for a claim," Tuva Bogsnes, a spokesperson for the Norwegian Ministry of Foreign Affairs, told CNN.
Crabs, which scuttle about on the seafloor, are considered sedentary – unlike fish, which travel more widely — meaning they are deemed for legal purposes to be part of the seafloor. Some believe the case could open the door for the extraction of other seafloor resources such as oil, gas and other minerals.
If the Supreme Court decides in favor of the Latvians' right to fish without a Norwegian license, "it means an obligation to not discriminate with regard to all living and non-living resources on the shelf, including oil drilling activities," Jensen said. "It's all or nothing, basically."
It could open up "a ginormous can of worms," said Rachel Tiller, chief scientist at SINTEF Ocean, an industries research organization. In terms of the bottom of the sea, she added, "that means whatever oil or gas or anything that's there, anyone should be able to exploit those areas," though she said it would not be a "free for all," as Norway would still manage the area.
"Irrespective of the Court's ruling on this issue it will be up to the government of Norway to decide whether to open additional areas for petroleum activity," Bogsnes said. She said there are no current plans to open the area up to extraction.
Norway, one of Europe's largest oil and gas producers, announced on Tuesday it planned to offer a record number of oil exploration blocks in the Barents Sea in the Arctic, according to Reuters.
As climate change causes the Arctic to heat up and ice to melt, resources may start to become more accessible.
"Climate change makes the Arctic more attractive for resource exploitation, including around Svalbard. It boosts all states' interest in the region," Jensen said. Dodds cautioned, however, that the region's rapid warming may also make it more unpredictable and expensive for oil and gas extraction.
In 2021, the International Energy Agency said there could be no new oil, gas and coal projects if the world is to keep on track for limiting temperature rises to 1.5 degrees Celsius above pre-industrial levels by 2050.
A decision on the Supreme Court case is expected in two to three months.