'Hotel Rwanda' hero Paul Rusesabagina arrives back in US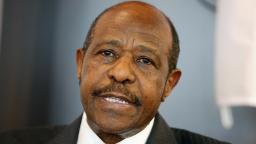 CNN
 — 

Paul Rusesabagina, who inspired the Hollywood film "Hotel Rwanda" and was freed from prison in Kigali last week, returned to the United States on Wednesday, arriving at the US Army's Brooke Army Medical Center at Joint Base San Antonio, according to a State Department official.
"The U.S. government is focused on ensuring that Mr. Rusesabagina and his family's well-being are prioritized, and that all assistance available is offered in an appropriate and timely manner," the official said. The official declined to provide additional details, citing "privacy reasons and out of respect to the family."
Carine Kanimba, Rusesabagina's daughter, confirmed her father's return in a post on Twitter.
"PAUL RUSESABAGINA IS FREE," she wrote, along with a smiling photo of her father. "Dad has just arrived in San Antonio, Texas."
"Thank you to EVERYONE who worked soooo hard to bring him home," she continued. "Our Family is finally reunited today."
Rusesabagina is best known for saving hundreds of Rwandans during the country's 1994 genocide by sheltering them in the hotel he managed.
A US congressional aide familiar with Rusesabagina's case said he is expected to participate in the Department of Defense program known as PISA (Post-Isolation Support Activities). Many recently freed US wrongful detainees have participated in the program – the length of which varies but has a 19-day maximum – to help them acclimate back to normal life.
Rusesabagina, a US legal resident who had been designated by the US State Department as wrongfully detained, was released from prison in Rwanda last week after his sentence was commuted by President Paul Kagame. The commutation came after he asked Kagame for a pardon in an October 2022 letter.
"If I am granted a pardon and released, I understand fully that I will spend the remainder of my days in the United States in quiet reflection," he wrote in part. "I can assure you through this letter that I hold no personal or political ambitions otherwise. I will leave questions regarding Rwandan politics behind me."
Rusesabagina, who is a dual Rwandan and Belgian citizen, was slated to be released along with 19 other people that had been convicted alongside him, CNN previously reported.
He had been arrested by Rwandan authorities while he was traveling internationally in 2020 in what his family has claimed was a kidnapping.
Rusesabagina was found guilty on terrorism-related charges in September 2021 and was sentenced to 25 years in prison. At his trial, Rusesabagina was said to be part of a terror group called MRCD-FLN and two 2018 attacks in which nine people died were a particular focus, according to a previous government statement.
The Clooney Foundation for Justice, however, had described the verdict as a "show trial," and claimed that Rusesabagina's conviction lacked sufficient guarantees of fairness "required by international and African standards."
A senior US official previously told CNN that "there was no particular concession made by us as a government here" that led to Rusesabagina's release.
Rather, there was "a sequence of steps that were worked out involving the Rwandan government, US government and of course Paul himself," the official said, adding that "it took months to reach that sequence in a manner agreeable to all those involved."