Hong Kong and Macao will fully reopen borders with mainland China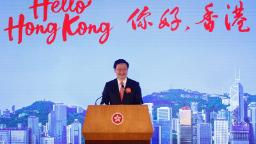 Hong Kong
CNN
 — 

China will fully reopen borders with its special administrative regions of Hong Kong and Macao next week, in what is expected to be a major boost for the economies of the two cities.
From Monday, travelers entering mainland China from Hong Kong or Macao will no longer need to provide proof of negative Covid tests, as long as they have not traveled abroad in the previous week, the State Council's Hong Kong and Macao Affairs Office said in a Friday statement. Daily quotas on the number of travelers will also be scrapped.
The resumption of normal travel is expected to provide much support to the battered economies of the two cities. Hong Kong is a major international financial center, and, before the pandemic, Macao was the world's casino capital.
Hong Kong's economy contracted last year, according to preliminary government data, shrinking by 3.5% compared to 2021. The city's GDP fell 4.2% in the fourth quarter, significantly more than economists' forecasts.
Over the past three years, limited cross-border travel to mainland China has been listed as the top concern for businesses across the city, according to industry groups.
Businesses began seeing some relief last month, when residents of Hong Kong and mainland China were permitted to resume two-way, quarantine-free travel.
Under the partial reopening, travelers were required to test negative for Covid-19 and make online bookings for trips in advance under a daily quota system.
That is now no longer required, Hong Kong Chief Secretary Chan Kwok-ki said at a press conference Friday, adding that both sides would soon be able to get back to "normal travel."
With restrictions removed, Hong Kong could ultimately see a boost of 3% or 4% to economic growth, according to Frederic Neumann, HSBC's chief Asia economist, citing spending by mainland Chinese tourists.
Goldman Sachs analysts are also expecting the city to turn a corner soon.
"We stay optimistic on Hong Kong's economic recovery," they wrote in a note this week, adding that they were expecting 3.5% growth this year due to the "border reopening with mainland China and removal of most social distancing measures."
Hong Kong is working to rebuild its status as a global business hub.
On Thursday, the city's leader John Lee announced the government would give away as many as 500,000 free airline tickets to bring back tourists, in what he called "the world's biggest welcome ever."