Goldman Sachs CEO got 30% pay cut — but still made $25 million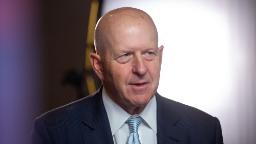 New York
CNN
 — 

Goldman Sachs had a rough year in 2022. And CEO David Solomon was punished for that. Sort of.
The investment banking giant said in a Securities and Exchange Commission filing Friday that Solomon received $25 million in annual compensation last year. While that is still a very large amount of money, it's down nearly 30% from the $35 million that Solomon raked in during 2021.
Solomon's $2 million annual salary is unchanged. But the company said that his "annual variable compensation," paid in a mix of performance-based restricted stock units and cash, was well below 2021 levels.
The reason: Weaker earnings compared to 2021's results. Goldman Sachs

(GS) shares also fell more than 10% in 2022, although that wasn't as big of a drop as the ones suffered by rivals Morgan Stanley

(MS), JPMorgan Chase

(JPM) and Bank of America

(BAC).
Still, Goldman Sachs (like the rest of Wall Street) was hit hard by the slowdown in dealmaking last year. The company reported a 16% drop in revenue in the fourth quarter and profit plunge of 66% earlier this month, mainly due to the lack of merger activity and initial public offerings.
In fact, earnings for Goldman Sachs missed Wall Street's consensus forecasts by the widest margin since the third quarter of 2011. Solomon said in the company's earnings release that the company faced "a challenging economic backdrop."
Goldman Sachs is having a particularly tough time trying to branch beyond its traditional businesses of investment banking. The company's consumer-focused businesses have been losing money and Goldman Sachs is pulling back on some of its efforts to reach average banking customers as a result.
And if Solomon finds himself short on cash, he can always pick up more DJ side gigs.