Glass walkway shatters at London's Tower Bridge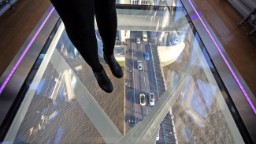 Story highlights
Officials say there was no danger to public after glass panel broke in walkway
Engineers repaired the panel within two days and the attraction remained open
Glass floor has four layers. The top layer can be easily replaced when scratched or damaged

London
CNN
 — 

A scary view of London just got slightly scarier.
At 138 feet above the city's River Thames, the view from the newly opened glass walkway at Tower Bridge was already enough to generate high anxiety.
Then, last Friday, someone dropped a beer bottle and the glass shattered.
The good news, say Tower Bridge officials, is that the breakage only affected a "sacrificial" panel covering thicker glass below and there was no risk to visitors.
Two days after the incident occurred at a private event, the glass had been repaired.
The attraction remained open as normal.
Witness Peter Gordon tweeted an image of the broken glass, which was reportedly made worse by someone walking across in pair of stiletto heels.
'Unique viewpoint'
"A sacrificial layer of glass on the new West Walkway at Tower Bridge Exhibition shattered on Friday evening, when an empty beer bottle fell from a tray being carried by a member of the catering team during an event," a statement from Tower Bridge said.
"The floor was immediately inspected and covered to protect guests from glass splinters."
It said engineers were called in the following morning and replaced the glass panel within 24 hours.
"The new glass floor has four layers of glass with the sacrificial layer on top of that – this is installed so that it can be replaced if it is scratched or damaged.
"We look forward to continue welcoming visitors from across the globe to our attraction, and enjoying a unique viewpoint from one of London's most iconic landmarks."