Gare du Nord: Suspect 'neutralized' after alleged attack at Paris central railway station, minister says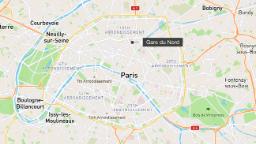 CNN
 — 

A man who injured several people Wednesday morning in a suspected knife attack at Paris' Gare Du Nord central railway station has been "neutralized," France's Interior Minister Gérald Darmanin tweeted.
"An individual injured several people this morning at the Gare du Nord. He was quickly neutralized (brought under control). Thankful to the police for their effective and courageous response," Darmanin wrote on Twitter.
French rail operator SNCF said earlier police "seemed to have opened fire" on the attacker, whose condition is presently unknown.
CNN affiliate BFMTV said several people were injured in a knife attack on Wednesday morning at the station.
"The traffic is disrupted at the departure and arrival [areas] of Paris Nord. The police seem to have opened fire against a dangerous person who injured travelers at Gare du Nord," SNCF tweeted.
Emergency services intervened and the person has been removed. A security perimeter has been established but the station continues to operate normally, SNCF tweeted.
It's unknown how many people were injured.
This is a developing story. More details to come