France strikes: Workers walk out in mass protests against plans to raise the retirement age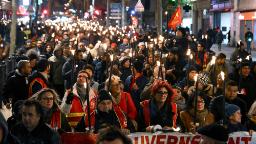 Paris/London
CNN
 — 

Trains and flights were canceled in France, primary schools shut and thousands of police officers deployed as labor unions held nationwide strikes Thursday to protest the government's plan to raise the retirement age for most workers.
Protests in major French cities, including Paris, Marseille, Toulouse, Nantes and Nice, brought transport services to a standstill. The country's energy network was also under strain.
Eight of the biggest unions had called for a "first day of strikes and protests" against pension reforms unveiled by President Emmanuel Macron's government. The legislation will require French citizens to work until 64, from 62 currently, to qualify for a full state pension.
Train lines across France were seeing "severe disruption," according to French rail authority SNCF. Metro lines in Paris were hit by full or partial closures, the city transport authority RATP said on Twitter.
Meanwhile, Eurostar canceled several services between the French capital and London, according to its website, and flights at Orly airport in Paris have been scratched. Around 200 buses will deliver protestors to Paris for a march across the city this afternoon, CGT union head Philippe Martinez told French broadcaster Public Senat on Thursday.
CGT said that the majority of refinery workers at TotalEnergies

(TOT) have walked out, interrupting deliveries of oil products. CNN has contacted the oil company for comment.
Some 70% of primary school teachers are also expected to strike across France, according to the main union for the sector, Snuipp-FSU, with one in three primary schools in Paris closed. The Snes-FSU Union said about 50% of secondary school teachers in France will also be on strike.
France's Interior Minister Gerald Darmanin told French radio station RTL on Wednesday that more than 10,000 police and military personnel will be deployed to the protests, including 3,500 officers stationed in Paris.
Macron's proposed pension reforms come as workers in France, as elsewhere, are being squeezed by rising food and energy bills. Nurses and ambulance drivers in the United Kingdom are also striking on Thursday over pay and working conditions.
Thousands took part in mass demonstrations on the streets of Paris last year protesting the cost of living, and strikes by workers demanding higher pay caused fuel pumps to run dry across the country a few months ago.
"This reform falls at a moment where there is lots of anger, lots of frustration, lots of fatigue. It's coming at the worst moment, in fact," CFE-CGC union chief François Hommeril told CNN on Tuesday, pointing to the inflation that has wracked Europe this year following the Covid-19 pandemic and Russia's invasion of Ukraine.
The French government has said that raising the retirement age is necessary to tackle a pension funding deficit. France spent nearly 14% of GDP on state pensions in 2018, which is more than most other countries, according to the Organization for Economic Cooperation and Development.
Government spokesperson Olivier Veran told journalists Wednesday that 40% of French workers will be able to leave work before 64 under the proposed regime thanks to exceptions for those who started work early or who have physically taxing jobs.
"We have the most protective, the most developed system in Europe [for pensions]," he said. "Even after the reforms, we will retire in France better off and earlier than in almost all eurozone countries," he added.
In Europe and in many other developed economies, the age at which full pension benefits vest is 65 and increasingly moving towards 67.
Overhauling pensions has long been a controversial issue in France, with street protests halting reform efforts in 1995, and successive governments facing stiff resistance to changes that eventually passed in 2004, 2008 and 2010.
An earlier attempt by Macron to revamp France's pensions system was met with nationwide strikes in 2019 before being abandoned because of the Covid-19 pandemic.