France strikes: Workers bring Paris to a standstill in second mass protest over retirement age reforms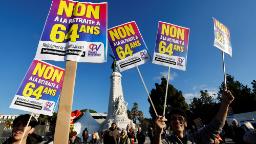 Paris/London
CNN
 — 

French schools and transportation networks were heavily disrupted Tuesday for the second time this month, as unions staged another mass strike against government plans to raise the retirement age for most workers.
Unions and opposition parties have called for people to protest in major cities, hoping for a repeat of the first major demonstration against the plans on January 19, when more than 1 million people took part. Strikes that day brought the transportation network to a standstill and shuttered the Eiffel Tower to visitors.
In Paris, more than 100 schools will be closed Tuesday and 60% of teachers will walk out, the major education union FSU said on Twitter.
The French capital is expected to bear the brunt of the protests. The city's transport agency RATP warned that the metro and suburban rail services would be "very disrupted."
National railway operator SNCF said two thirds of trains on the TGV, France's intercity high-speed rail service, would be canceled Tuesday and only 20% of regional trains would operate.
Air France

(AFLYY) canceled 10% of short-haul flights but said strikes would not affect long-haul services. Eurostar, meanwhile, canceled several services between Paris and London.
There will be 248 protests across the country, Philippe Martinez, the leader of one of France's biggest confederation of unions CGT, told CNN affiliate BFM-TV Tuesday.
Despite the mass action, President Emmanuel Macron's government is standing firm on planned pension reforms, which will gradually increase the age at which French citizens can draw a state pension to 64, from 62.
On Sunday, Prime Minister Élisabeth Borne said raising the retirement age was "not negotiable," during an interview on domestic television station France Info.
The government has said the legislation is necessary to tackle a funding deficit, but the reforms have angered workers at a time when living costs are rising.
Thousands took part in mass demonstrations on the streets of Paris last year protesting the cost of living, and strikes by workers demanding higher pay caused fuel pumps to run dry across the country a few months ago.
France spends nearly 14% of GDP on state pensions, one of the highest rates among countries in the Organization for Economic Cooperation and Development.
Raising the retirement age to 64 will keep France below the norm in Europe and in many other developed economies, where the age at which full pension benefits vest is 65 and increasingly moving towards 67.
— Marguerite Lacroix contributed to this article.